CNBC's Squawk Box Tears Into Paul Krugman Following His 'Zombies At CNBC' Blog Post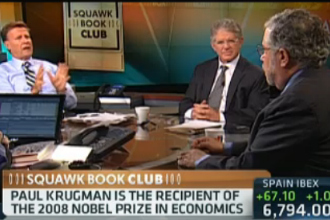 Thursday morning, the hosts of CNBC's Squawk Box shot back at Paul Krugman for his blog post trashing the show and its network as perpetuators of "zombie" ideas following a tense appearance of his on the program.
Krugman had appeared on Wednesday's edition of the show presumably to promote his book, but much of the discussion was debate over the role of government in the economy, with host Joe Kernen goading the New York Times columnist into admitting that he'd allow government spending to rise to as much as 50 percent of GDP. He immediately took to his NYT blog to decry the "Zombies at CNBC" and their "zombie" ideas. He also wrote that "people getting their news from sources like that are probably getting terrible advice about any kind of investment that depends on macroeconomics."
Kernen shot back on this morning's show, reading some of Krugman's own "terrible advice," like his 1998 prediction that "By 2005 or so, it will become clear that the Internet's impact on the economy has been no greater than the fax machine's."
– RELATED: Zombies On CNBC! Paul Krugman Appears On Network Then Trashes It For 'Zombie' Ideas
In addition, Squawk Box featured Warren Buffett, Alan Simpson, and Erskine Bowles via satellite to talk economics and the Simpson-Bowles tax plan proposed by the latter two. Kernen described to them Krugman's belief that government spending 50 percent of GDP could be acceptable, and the three guests snickered. "I know! It's laughable!" Kernen exclaimed.
Later on, co-host Andrew Ross Sorkin asked the trio of guests about Krugman's critique that their plan was "regressive." Simpson, the co-chair of President Obama's National Commission on Fiscal Responsibility and Reform, brushed back with strong words for the Nobel-winning economist:
Paul Krugman is a little hyper. And when this started for me, he said that I never saw a spending cut I didn't love, or some snide little crack. But I think he needs to rest. He needs some solace. He needs to sit in Sun Valley and someone hold his hand and say, "Poor, poor dear." He just gave into ranting.
Simpson continued on to say that it was "madness" for Krugman to suggest we need more government spending and stimulus when we run a trillion-dollar deficit.
Check out the clip of Simpson criticizing Krugman below, via CNBC:
(h/t BusinessInsider)
>> Follow Andrew Kirell (@AndrewKirell) on Twitter
Have a tip we should know? tips@mediaite.com