CNN Panel Argues Over Whether Blackface Actress Julianne Hough Has Black Friends, Concede None Know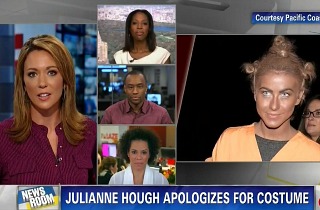 Actress Julianne Hough sparked a whirlwind of controversy when she apparently decided to dress in as an African-American inmate from the Netflix drama Orange is the New Black for Halloween. The issue ignited a fiery CNN panel debate over racial insensitivity, "white supremacy," and how Halloween can be abused. Towards the end of the panel, the guests battled over whether Hough has black friends. They conceded that they were not clear on whether she did or did not.

"It's definitely offensive," said CNN political commentator Marc Lamont Hill. He noted that blackface performances and minstrelsy were present "at the dawn of American racism."
The Blaze anchor Amy Holmes said that the entire issue was a "colossal waste of time" to the groans of her fellow panelists. "I suspect that people will not be talking about this in about 24-hours."
The Root columnist Keli Goff said that the act was offensive, though not offensive enough to "crack" her "top five" offensive moments of the month. She said that, as offensive Halloween costumes go, an unspecified person who dressed up as a deceased Trayvon Martin was more offensive and was "born out of maliciousness."
RELATED: White Privilege And First Lady Michelle Obama's Heckler
"For people to get outraged, and worked up, and incensed over this, it actually trivializes the real issues affecting the black community," Holmes interjected.
Hill disagreed. "We can talk about mass incarceration and unemployment and we can talk about these cultural representations which are also dangerous and dark," he insisted. "They lead to some of the other things that we're talking about."
Hill said that an aspect of "white supremacy" and "structural racism" is that white women like Hough can wear black face and not experience any consequences.
"I don't think she's racist at all," Hill clarified. "This is an outgrowth of white privilege."
"Are you saying little black girls shouldn't be able to dress up as Princess Leia?" Holmes asked.
"It's not about who you can dress up as," he said. "This might mean — shock the world – there are a few things that white people can't do."
"This is what you get when you don't have any friends who don't look like you," Goff asserted.
"That's how you lose black friends," Hill agreed.
Goff burst into laughter when Holmes insisted that no one on the panel actually knew whether Hough had African-American friends. "If she were friends with Amy, Amy would probably say yes to them," Hill insisted.
Watch the segment below via CNN:
[Photo via screen grab ]
— —
> >Follow Noah Rothman (@NoahCRothman) on Twitter
Have a tip we should know? tips@mediaite.com