CNN Picks Up Stanley Tucci: Searching for Italy for Second Season. Here's Why it Works So Well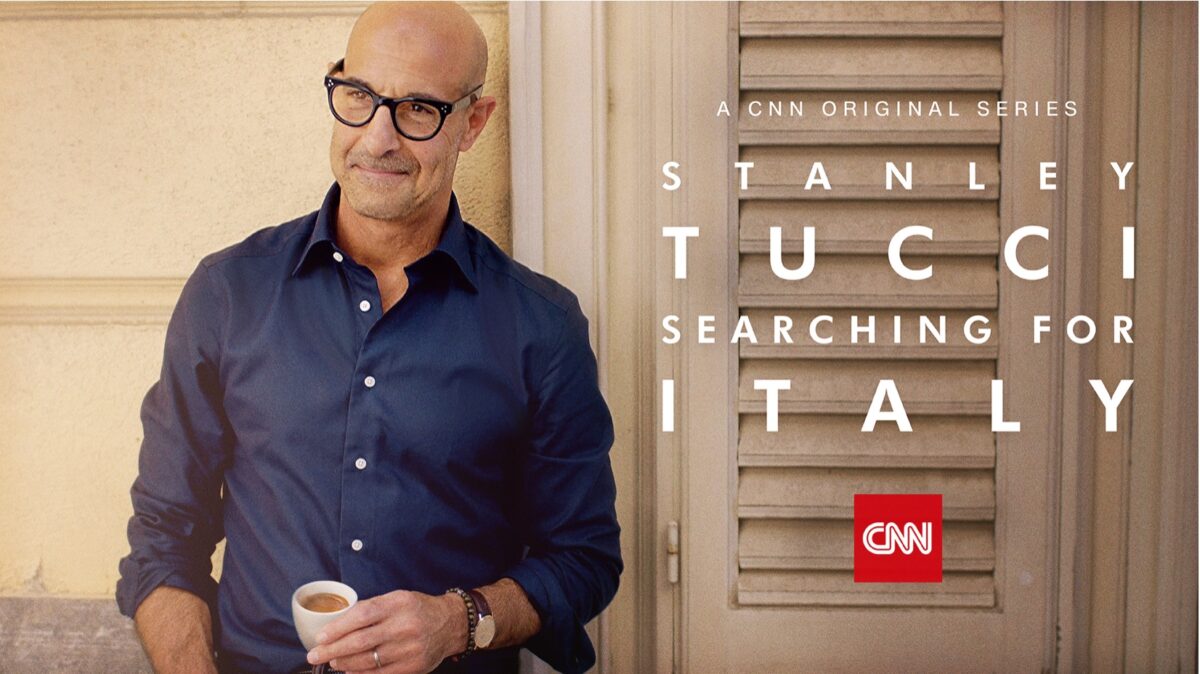 Fans of escapist non-fiction narrative television, beautiful shots of Italy and food preparation — and, well, Italian food preparation — can rejoice in the delightful news that CNN has picked up its new travel-doc-foodie series Stanley Tucci: Searching for Italy for a second season.
CNN's decision to add a second season is equal parts unsurprising (the show's premiere episode was the top-rated show on cable news when it aired on Valentine's Day) and shocking, in that a travel food show with such high production value targeting a seemingly sophisticated viewership would rate so well.
But there are a lot of reasons why this nuanced show works so well, not least of which is its debut around the one-year mark of a global pandemic that has effectively shut down all travel and tourism.
Travel shows that feature local food are a winning format, from Diners, Drive-ins and Dives to Anthony Bourdain's work, in particular his hit CNN series Parts Unknown. Since Bourdain's tragic passing a few years ago, there has been a significant travelogue hole in CNN's weekend programming, and there is very similar DNA between that show and Searching for Italy. But to everyone's credit, Tucci's opus is very much its own thing.
First of all, Tucci is a very different host. His approach to his subjects is just as genuine and authentic as Bourdain's, but it comes from a love of food and culture, not the Kitchen Confidential bona fides that informed Bourdain's experienced and authoritative gravity.
Also, Tucci is a performer, and while he does not sacrifice any authenticity, he brings his performing skills to bear by making everyone on his show feel comfortable as if he were hosting an event; not just guests, but catering staff and coat check workers as well. Tucci's on-camera mien is reminiscent of his The Devil Wears Prada character Nigel Kipling in his quick-wittedness and facility, but is never bitchy.
Everything about Tucci is custom-tailored to the point that it is almost twee, but thankfully he and his show are not. This is largely due to a production that, from a viewer's perspective, appears to go with the stories that are provided to them.
Take, for example, the coup de grace for the Naples-set premiere episode in which Tucci and team are thrilled to dine at one of his favorite restaurants, complete with outdoor dining overlooking the Amalfi coast.
But a once in a decade storm scuttles the plan for a cinematic high point, and instead of rescheduling and shooting on another day, they improvise and move the entire affair indoors with candles. This scene, in and of itself, captures the joy of necessary improvisation and risk/reward that makes travel so invigorating and encapsulates just why this show is such high renaissance escapism.
Days before the series premiered, Tucci made himself available to a dozen or so journalists for a Zoom call that included CNN Original Series executives Amy Entelis and Lyle Gramm. Dialing in from the London location where he is filming, Tucci was open to all questions and occasionally showed his acerbic wit.
I asked him about the independent movie Big Night that he co-wrote and starred in, which has become a seminal, revered, and influential film in the American foodie movement. He admitted that while he takes great pride in that film, he and his team were largely in over their heads, that they were making it up as they went along, which viewers can now see and which also lends to its charm.
I also asked him if he was bothered by the numerous tight shots in the CNN series featuring Tucci stuffing his gob with food. It is a food show after all, and so the eating bit is really the money shot.
Tucci pushed back on my question and asked me, "I don't know, did it bother you? Sounds like they did. I quickly admitted to him that his eating was fine, but that the idea of hi-def cameras capturing every bite of food I ate is a" fate worse than death" to me. He added, "there is something unique about footage of people eating that people seem to enjoy." He is not wrong.
Which leads us back to the escapist nature of the show. And the incredible timing of its unveiling.
As Tucci revealed in the Zoom call, Searching for Italy is a metaphor for the search for joy, love of food, adventure, and passion that is so synonymous with Italian culture. And while many television viewers are growing mossy from lockdown and record levels of Covid-induced cabin fever spread across the nation, this show is a remarkable repast of gorgeous footage, remarkable Italian characters and, of course, sumptuous shots of food.
But it's the search for, and capturing of, the joy of life itself that makes Tucci's show work so well, and such a joy to watch. It is an oasis of the human spirit in a desert of drudgery. This is why Searching for Italy's second episode was the fourth most-watched show in all of cable (not just cable news), and why a second season was such a no-brainer.
This is an opinion piece. The views expressed in this article are those of just the author.