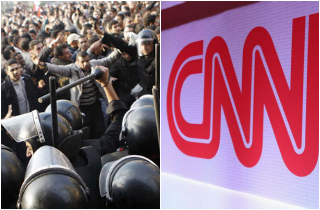 "U.S. to halt Egypt aid after coup," ran CNN's headline on Tuesday. If true, that would have been a major development in the frayed relationship between the U.S. and Egypt when their tenuous democracy devolved into violence this summer, and a huge scoop for CNN. But after multiple arms of network, including Anderson Cooper's 360, reported the news, the White House strongly denied it, forcing CNN to significantly revise its story.
w
"The reports that we are halting all military assistance to Egypt are false," an NSC spokesperson said in a statement, confirming widespread skepticism in the foreign policy world over CNN's scoop. Shortly afterward, the U.S. announced that it was reducing Egyptian aid, the story CNN seemed to be on top of. Via Politico's Dylan Byers and Hadas Gold:
The United States provides Egypt with about $1.55 billion in annual aid, including $1.3 billion in military aid. On Wednesday night, Obama administration officials announced that while the U.S. would suspend $260 million in cash aid to Egypt and "hold delivery of certain large-scale military systems" worth hundreds of millions of dollars, certain funding for counter-terrorism efforts, health and democracy-promotion efforts in Egypt would continue.
The tweets of Jim Sciutto, CNN's Chief National Security Correspondent and one of the story's authors along with Elisa Labott, captured the change. Here's Sciutto at 7:37 p.m. on Tuesday, saying the U.S. will "suspend" aid:

And here he is at 1:55 a.m. Wednesday morning, retweeting a New York Times article that the U.S. would "reduce" aid:

CNN then changed its headline to "U.S. to cut some military aid to Egypt after coup, turmoil." It also amended the article in several places reflecting the more circumscribed nature of the aid reduction, including "some military aid could continue," and the line, "In an initial report about the announcement, CNN did not specify that these portions of the aid would continue."
A CNN spokesperson told Politico:
"CNN reported in an updated post on cnn.com, that the initial report left the impression that the U.S. was suspending all aid to Egypt. In the updated story, it was made clear that some aid including money for counterterrorism and democracy promotion would continue. Our clarification was clear, it specifically said quote: 'In an initial report about the announcement, CNN did not specify that these portions of the aid would continue.'"
Byers disputed this interpretation, arguing that the initial article flatly stated that all aid would be cut off, and that the clarification did not alert the reader that the content of the article had been substantively altered.
[h/t Politico]
[Image via GlobalPost, Terminal U]
——
>> Follow Evan McMurry (@evanmcmurry) on Twitter
Have a tip we should know? tips@mediaite.com