CNN's Brooke Baldwin Battles 'Reparative Therapist' Who Believes In Therapy To 'Cure' Homosexuality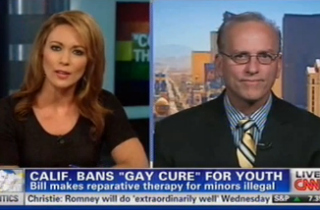 CNN's Brooke Baldwin butted heads with "reparative therapist" and member of the National Association for the Research and Treatment of Homosexuality (NARTH), David Pickup on Monday after the counselor voiced dissent with California's new ban on sending minors to gay "cure" therapy.
After CNN senior medical correspondent Elizabeth Cohen said that the American Psychological Association reported that these services can be harmful and perhaps ineffective, Baldwin asked for Pickup's reaction as well as the job description of a reparative therapist.
"The parent [of a reparative therapy patient] asks for, first of all, what fits for the child," Pickup said. "The parent says that the child is distressed, usually because he has had something happen to him in his life that has caused his homosexual feelings. And, the child who is the client, most importantly, confirms that."
Baldwin added that this is a personal issue for Pickup, who underwent such treatment and was sexually abused as a minor.
On why he chose to go through with reparative therapy, Pickup said, "I'm talking about authentic reparative therapy. The other side of this issue will label this 'quackery' and put this all in a ring of things that just aren't true but I'm talking about authentic, profound, in my case psycho-dynamic therapy. Reparative therapy helped saved my life. My depression, clinically depressed twice, went down…My self-esteem went up, my confident in my own gender identity went up and was more secured…I was sexually abused as a child and emotionally abused, and so if I was still a minor and not allowed to undergo treatment for something that for me did not represent who I was, then it would be an egregious abuse, in my opinion. So that's what happened to me, is that I had success."
When asked by Baldwin whether he'd been gay and wanted to become straight, Pickup said, "No, I was never gay identified. I was, like there are many thousands of people all over the world…who believe that for them there's a cause-and-effect nature of homosexuality and usually it happens because of a severe gender identity inferiority…unmet needs from the time one is a child, from usually the same sex parent. There's a lot of inner wounds that we've discovered in therapy. The short version is, when those wounds get healed, the homosexual feelings, we don't force them away, they naturally spontaneously dissipate."
Baldwin went on to counter Pickup's remarks with a quote from California Governor Jerry Brown on the services:
"'These practices have no basis in science or medicine, and they will now be relegated to the dustbin of quackery,'" Baldwin quoted the governor. "Your governor, David, is calling what you do 'quackery.' Can you just react to that and tell me how this new law will affect what you do?"
"Let me tell you what kind of governor we have now," Pickup said. "Any good, confident therapist knows that homosexual feelings can result when one, I'm talking about boys right now, when one is raped or sexually molested. Later in life those feelings come up. So what our governor has decided now that he knows best that the kind of profound effective therapy is quackery that handles this kind of situation…"
Baldwin interjected to say, "David, David, David, how about the American Psychiatric, forgive me, but I'm just going to add onto the governor, the American Psychiatric Association says the potential risk of so-called reparative therapy is great including depression, anxiety, self-destructive behavior…"
"You didn't quote [the APA] correctly," Pickup told Baldwin. "You didn't quote the conclusions of their findings, which says there is no proof that SOCE causes harm."
With that, Cohen returned to the segment to read the APA report, stating, "They say there is insufficient evidence to support the use of psychological interventions to change sexual orientation."
"For the governor to sign into law that continues the potential, unconsciously, continues the sexual abuse of these children who walk into my office who are crying, depressed, lonely, gender identity confused…for them to have a bill that says no we can't even talk about these issues, we can't do anything to help these children resolve their homosexual feelings and maximize their heterosexual potential…"
Cohen went on to say that these patients could be upset because their parents force them to attend Pickup's sessions and given a "hard time about being gay."
"How do we know that for sure?" Pickup asked, prompting a spat with Baldwin.
"Sir, sir, sir," Baldwin said over his words. "Sir, with all due respect, this is my show. You are a guest on my show."
Watch the full clip below:
—
>> Follow Laura (@LauraDonovanUA) on Twitter
Have a tip we should know? tips@mediaite.com