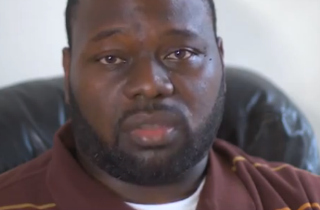 A new anti-Mitt Romney ad from the American Federation of State, County and Municipal Employees features Richard Hayes, the garbageman who deals with the Romneys' trash at their oceanfront mansion in La Jolla, California.
Dubbed by AFSCME as one of the "people who make America happen," Hayes talks about his laborious job, and criticizes the GOP nominee for not caring about the government-dependent "47 percent" of voters who the candidate believes won't vote for him anyway:
"My name is Richard Hayes, and I pick up Mitt Romney's trash. We're kind of like the invisible people. He doesn't realize that the service we provide — if it wasn't for us, it would be a big health issue, us not picking up trash.

"Residents do come out and shake our hands. Sometimes they give us hugs and thank us for the job we're doing, hand us water and Gatorades. Tell us we're doing a good job and keep up the good work. Picking up 15, 16 tons by hand, that takes a toll on your body. When I'm 55, 60 years old, I know my body's gonna be break down [sic]. Mitt Romney doesn't care about that."
This video is reportedly the first in a series of interviews with real workers, meant to be "part campaign attack, part online testimonial, part survey tool and part recruiting tool."
So… seriously? This is how you're going to "attack" Romney now?
Behold: a new era of politics. One where we can get any random person with a remote connection to a candidate to say negative things that conform to the latest narrative about that particular candidate. Think of it as the Joe the Plumber meme gone wild?
What's next?
Hi, I'm Jane Doe, and I once waited on Mitt Romney at the local Ruby Tuesday's. I'm on my feet all day, sometimes for 12 hours at a time without a break. I've developed some serious back problems and I have to wear special in-soles in my shoes. Most guests tip 18-20% for the hard work I do, but Mitt Romney only tipped 15%. When I'm retired, I know I'm going to have arthritic joints. Mitt Romney doesn't care about that.
But then the Republicans will lob back?
Hi, I'm John Doe, and I own a plumbing repair shop in the South Side of Chicago. I once fixed Barack Obama's kitchen sink. Bending over for hours on end is difficult… and so is building my own business. But when I made his sink work like new, Obama disputed some of the charges, claiming I didn't actually do some of that work. When I retire, I'm going to know I worked hard and deserved the benefits. But Barack Obama doesn't think I built that.
And then electoral politics becomes a farce…
Oh, wait.
Watch the ad below, via AFSCME:

[h/t HuffPost]
— —
>> Follow Andrew Kirell (@AndrewKirell) on Twitter
Have a tip we should know? tips@mediaite.com