CNN's Brooke Baldwin: Clay Travis Should Learn from Fox News –– Demeaning Women Has Consequences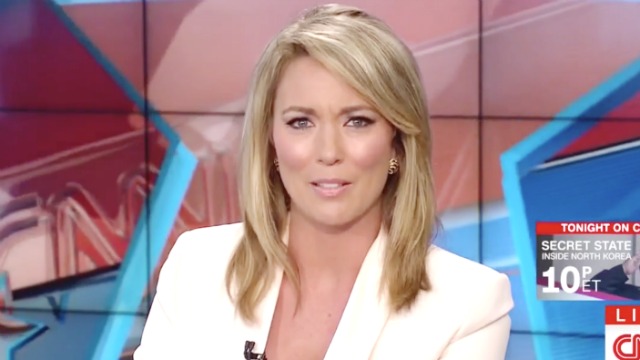 Brooke Baldwin wrote a piece for CNN.com tonight following that insane segment with Clay Travis talking about his love of the First Amendment and boobs.
Baldwin ended the segment early and, in her op-ed tonight, she provides some behind-the-scenes insight into what was going on:
The newsroom around me fell silent. I was staring into the camera trying to make sense of what was unfolding on live television. I even caught my cameraman Jay's eyes in disbelief. I thought again: "It is 2017, and this grown man is on my show talking with me — a female host — about boobs. Is this seriously happening?"

And then I did something I've done only a handful of times in my career. I told the control room to kill his mic and said "bye." I invite a variety people on my show with wide-ranging opinions — sometimes even my jaw hits the floor, too — but I let them speak. Whether it's left, right or center — I want to expose my viewers to other perspectives. Agree with them or not, the nation needs to listen.

But this … was different.
She genuinely couldn't believe Travis made that comment on-air, saying, "This is not okay. Speaking to women like this is unacceptable. It is 2017. Why is this even happening?"
Travis tweeted earlier today that he's been invited back on CNN, though one reporter received a brief statement from CNN denying it:
CNN is so offended that they already called me and asked if I could come back on Monday. Too perfect.

— Clay Travis (@ClayTravis) September 15, 2017
I asked CNN if Clay Travis was actually invited back to the network, as he claims. "No he's not," CNN's spox told me https://t.co/bMLPpWggXd

— Jim Dalrymple II (@JimDalrympleII) September 15, 2017
Baldwin wrote tonight, "As for my guest today — despite what he's tweeting, he won't be coming back on my show — ever."
And she concluded with this dig at Fox News:
He works at Fox Sports Radio. Maybe he should learn from folks over at Fox News — being demeaning to women does have consequences.
You can read the whole thing here.
UPDATE –– 11:58 pm ET: A CNN spokesperson has provided Mediaite with this statement in response to Travis' tweet:
Clay Travis was not booked again on CNN. Prior to his appearance with Brooke Baldwin, he had been tentatively scheduled to appear Monday on HLN.
That interview has been cancelled.
[image via screengrab]
— —
Follow Josh Feldman on Twitter: @feldmaniac
Have a tip we should know? tips@mediaite.com
Josh Feldman - Senior Editor