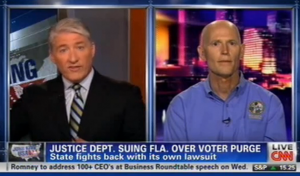 Following the Justice Department's lawsuit against Florida regarding the state's reported voter purge, CNN's John King spoke with Florida Gov. Rick Scott, who maintained he's doing "the right thing." Blaming the Department of Homeland Security for not releasing their database, Scott insisted there's no "purge" — that he's doing what needs to be done.
RELATED: Justice Department Files Lawsuit Against Florida Over Purging Of Voter Rolls
My "job is to make sure non-citizens don't dilute the legitimate vote of a U.S. citizen," Scott said. He said they know 100 individuals who are non-citizens are registered to vote, and that 50 of those have voted. The right database to use would be the Dept. of Homeland Security's database, but they've elected not to make theirs available, he said. "We have a right to it," he added, saying, "We're doing the right thing."
"This isn't a partisan issue," Scott further pressed, adding that he's not met a single person who hasn't felt this is a legitimate issue. Why wouldn't Homeland Security give them the database they're entitled to so they can go about this the "right way," he asked — prompting King to question whether he's currently going about it the wrong way.
Scott predictably pivoted away from the question, again underlining the necessity of confirming the eligibility of voters. He further denied any "purge" is going on, saying those questioned, once verified as citizens, will be able to cast their vote. No citizen has been kicked off the voter roll, Scott said.
As King further questioned the skewing of the so-called purge, noting that many have cited figures that shows it's biased. Though most of Scott's responses reverted back to his talking points regarding the database they have the right to access and the basic need to ensure voter eligibility.
Take a look, via CNN:

Have a tip we should know? tips@mediaite.com