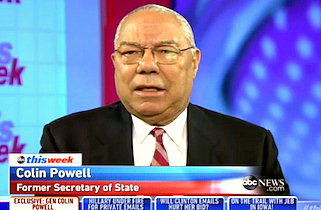 Former Secretary of State Colin Powell told ABC News' George Stephanopolous that he still sees a "dark vein of racism" in his party and America at large, part of the country's protracted transformation from its institutionalized racist past.
"I still see it in the Republican Party," Powell said. "And I still see it in other parts of our country. You don't have to be Republican to be touched by this dark vein."
"America is still going through this transformation from where we were 50, 60 years ago," Powell said. "You have to remember it was just 60 or 70 years ago that we still had poll taxes, that we still had literacy tests in order to vote, that voting places were only open two days a week for African Americans. So we've come a long way, but we still have a long way to go."
RELATED: Colin Powell: 'Elements' in GOP 'Demonize People Who Don't Look Like the Way They'd Like'
Powell noted that his grandchildren's generation was largely untouched by the days of institutionalized racism and instead valued diversity, but that the country must continue to hold its institutions to account.
"We have to deal with making sure that everybody can vote and express their opinions, police forces are acting in an appropriate manner, citizens are acting in a proper manner with respect to the police forces, and that governments and cities and states throughout the country are making sure they are not discriminating against any particular part of their citizenry."
Watch the clip below, via ABC News:
[Image via screengrab]
——
>> Follow Evan McMurry (@evanmcmurry) on Twitter
Have a tip we should know? tips@mediaite.com