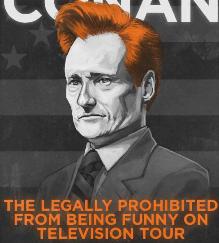 This is all just breaking, but it seems that not only will April 12 be the day that Conan kicks off his comedy tour, but also the day his future on television is know known. According to CNN, Conan O'Brien will host a one-hour show every weekday from 11 p.m. to Midnight on TBS. Like CNN, TBS is owned by Time Warner.
More details as they come, but you have to wonder a few things, especially that there will now be a cable evening battle between Jon Stewart and Conan.
Developing throughout the afternoon…
Screen cap of the historic tweet: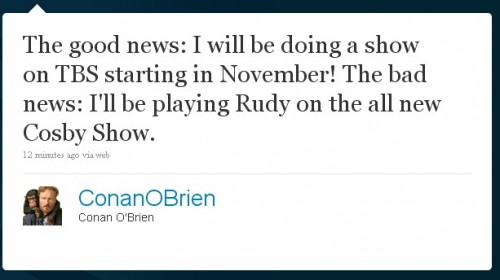 Writing for the Media Decoder blog for the NY Times, Bill Carter reports:
The former "Tonight Show" host has agreed to start up a new show on TBS, the comedy-oriented cable channel in the Turner network lineup. The new show will start in November and play at 11 p.m. weeknights, teamed with that network's other late-night show, hosted by George Lopez. That show, now at 11, will slide to midnight.

The news comes as a stunner because Mr. O'Brien was known to be in talks with the Fox network, and most predictions had him moving there in September or January.

TBS was not known to be in the picture. But Mr. O'Brien's representatives had been quietly talking with that cable network as issues continued to arise with the potential Fox deal.
This is big news for fans of both funny things and television shows (and a HUGE win for fans of both!) Video of the breaking news reports on Fox News and CNN:
Have a tip we should know? tips@mediaite.com