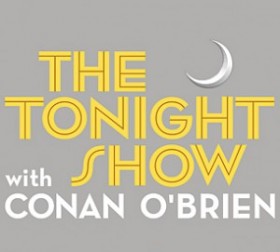 Sources on Team Conan in L.A. found out two weeks ago that NBC might want to make changes to its late-night schedule — and the flagship program that has anchored the lineup for decades. Yesterday, they officially know that that that flagship program will continue to air at 11:35 p.m. as it always has. They just won't be working there anymore. Tonight is their last night.
These staffers have lately gotten some ink as the people who 'uprooted their lives and families' to come cross-country with Conan to LA. So how do they feel?
Here's what I got from a few of my sources:
Despite Conan's manager Gavin Polone imploring NBC for a last-minute reversal, they knew they were done.
They also knew about Jay Leno's bigger penalty on his contract ("pretty sizable for a guy who told America Tuesday night that he didn't want to come back at 11:35 but NBC insisted").
They were upset but not worried about the Page Six item. The first day, Conan reportedly told everyone, "I give you my word of honor that you will be taken care of." Those who'd been through the Writers' Strike knew his word to be good on this.
When the deal was announced, they had a meeting that was described as "sober and businesslike" – they had gotten used to the news and were now "relieved to just have official closure."
Also, they're looking to the future. At that meeting, discussing the matter of divvying severance, EP Jeff Ross told the group that they were trying "to do it in a way that we can bring as many of you back for the next show."
So — they are clearly thinking ahead. More probably after tonight, after they've finished their run and gone on that long drinking binge. That should help.
Have a tip we should know? tips@mediaite.com