Concha on MediaBuzz: Where's the Outrage Over Hope Solo's Domestic Violence Charges?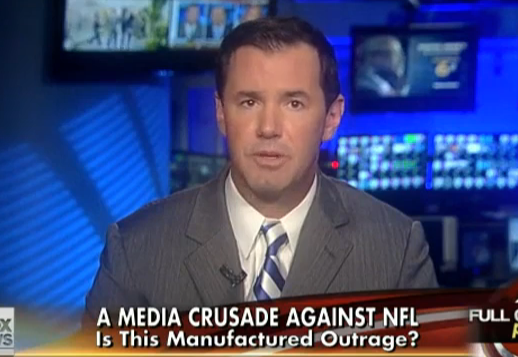 Mediaite columnist Joe Concha paid a visit to Howard Kurtz's show Media Buzz on Fox Sunday morning, where the pair and Hollywood Reporter media reporter Marisa Guthrie discussed whether there is a double standard in the media regarding how cases of off-the-field misconduct among professional athletes are covered.
Similar debates have taken place earlier Sunday morning and last week, with many claiming a double standard on covering misconduct of NFL players versus similar behavior by female soccer star Hope Solo. Concha ignited the debate over this issue in his Mediaite column last week.
Kurtz said the media are now "launching a crusade against the National Football League and its fans," and Concha said the outrage is "genuine" until it "reaches a certain point."
While the outrage may be there among NFL fans, Concha said, the NFL is still seeing record numbers and people are not letting these scandals affect their football-watching habits.
Kurtz agreed that the NFL is a "juggernaut" and these instances of misconduct are not taking the league down financially or otherwise in the minds of the public. He then brought up how commentators on NFL, CBS, and ESPN are criticizing the NFL while at the same time having contract deals with them worth billions of dollars.
Guthrie chimed in, saying "the NFL has turned a blind eye" to criminal off-the-field behavior of its players, and agreed with Kurtz that despite the fact that ESPN has a $15 billion contract with NFL, they released the damning report on Friday which incriminated the NFL and Ravens executives, saying the Ravens knew within hours about the elevator video showing Ray Rice punching his then-fiancée.
She added that the reason why there is so much outrage is that NFL has "turned a blind eye" to this issue for years, "and now it's exploded."
Concha said ESPN did great work with that report, but said they're "also hypocritical in certain instances," as he wrote here last week.
Hope Solo is a U.S. women's soccer goalie who won 2 gold medals and is arguably the most popular female athlete in the country right now. And on ESPN, on Thursday night, there's Hope Solo playing. Now why does that matter? Well, she's up on 2 counts of domestic abuse charges — one against her teenage nephew — yet, she has a trial in November, she continues to play. I don't hear Hannah Storm, I don't hear ESPN doing too many exposés on Hope Solo because maybe, she's a woman, maybe it's soccer and it's not as popular, but it's just as important, and I think this is becoming too much of a "this is an NFL problem" instead of "this is an epidemic that happens across all industries, all genders, and even soccer."
Kurtz said this is no longer a news story, and is instead a cultural one.
Guthrie continued with her theme of incriminating the NFL, saying "they've allowed these guys to continue raking in millions in endorsements to make sure this stuff stays quiet."
In addition, all three agreed it doesn't add up how Rice's attorney and TMZ received — with just a phone call — the incriminating video immediately, yet the NFL and the Ravens organization did not see it until TMZ released the video earlier this month.
Howie said he hadn't seen "the kind of hammering" NFL commissioner Roger Goodell took at his news conference on Friday.
"Oh I have, Howie," Concha interjected. "Chris Christie, back in January."
Kurtz and Guthrie replied by simply saying Goodell did not even answer most of the reporters' questions, and instead "deflected" and "obfuscated."
Concha concluded by saying people care about the scandals as a dinner-table issue, but they "put all that aside" on Sundays.
The media thinks we care more about character than we actually do when it comes to this sport. And we're selfish about it, we set our fantasy lineups, we enter our office pools, and we forget about it from 1 o'clock today to 11 o'clock tonight.
Watch the video below, via Fox News:
[Image via screengrab]
>>Follow Andrew Desiderio (@forza_desiderio) on Twitter
[Note: Mediaite intern Andrew Desiderio is a student at The George Washington University.]
Have a tip we should know? tips@mediaite.com