Dana Loesch Attacks 'Flat-chested' Trump Supporter Undergoing Double Mastectomy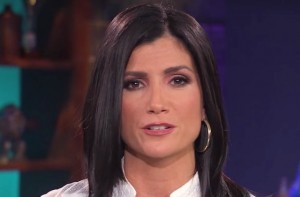 The Blaze's Dana Loesch tore into Donald Trump supporter Kayleigh McEnany Monday, at one point attacking her for being "flat-chested."
Loesch blasted McEnany for making grand claims on CNN about how anti-Trump conservatives weren't actually conservative, despite McEnany herself having made no discernible contribution to the conservative movement before this election cycle. "Who the hell is this chick?" she asked.
"Babycakes, this was more than going on television and flashing them pearly whites and your flat-chested, red-dressed, over-sprayed bleach blonde hair, while you sit here and you preach all this stuff about who is and isn't a conservative. You like Donald Trump so much, let me act like him," Loesch shot back.
But it turns out that McEnany is undergoing a preventative double mastectomy in her twenties, after finding out that she had a genetic predisposition for breast cancer. Here she is talking to the Hallmark Channel about the procedure:
When contacted by The Daily Caller for comment, Loesch was unfazed. "Anyone who defends a candidate that has mocked a reporter's disability, POWs, and blasted women as 'bimbos' with 'blood coming out of their wherever' surely has no problem with my addressing surrogates in a similar fashion," she argued. "I'm sorry for the struggles she had but perhaps being the 'victim' of my words can give her an insight into the kind of harm Trump's words inflicts on others."
Watch above, via The Blaze.
UPDATE (5/12/2016): An earlier version of this article claimed McEnany had already had double mastectomy. She is in fact in the process of undergoing procedures to prepare for a double mastectomy.
[Image via screengrab]
——
>>Follow Alex Griswold (@HashtagGriswold) on Twitter
Have a tip we should know? tips@mediaite.com