David Axelrod Promises To Fire Any Team Obama Staffer Who Calls Mitt Romney 'Weird'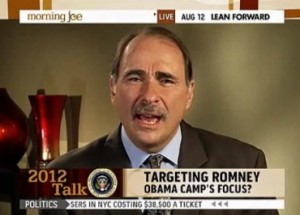 On MSNBC's Morning Joe, former RNC Chairman Michael Steele pressed senior Obama adviser David Axelrod on the Politico piece that suggested Team Obama's strategy would be to paint GOP hopeful Mitt Romney as "weird."
Axelrod called the Politico story "garbage," and agreed with Steele that any Obama campaign staffer who used such an attack against Romney would be fired. For now, at least, we're still talking about how "weird" Romney is.

Host Joe Scarborough prodded Axelrod, summarizing the piece (and joking that he thought the "skinny jeans" referenced therein were "sexy), and asked if the story was garbage. "Yes," Axelrod replied, "I think all of it is garbage…I'm still trying to get my mind around your fascination with his jeans, but beyond that, all of it is garbage."
In case you missed it, Politico published a piece on Tuesday that mapped out a Team Obama campaign strategy that involved painting Mitt Romney as "weird," and lacking in character. The Romney campaign seized on a non-campaign staffer's anonymous quote to release a response ad that showcased a sudden concern for civility. The Politico story quoted a "prominent Democratic strategist aligned with the White House" as saying that the campaign would have to "kill Romney" with attacks on his character and business record.
While that "kill Romney" quote cannot reasonably be hung on the Obama campaign, the "weirdness" quotes, while anonymously sourced, all have very strong attribution. Axelrod didn't use the word himself, but made the observation that "When he makes jokes about being unemployed or a waitress pinching him on the butt, it does snap your head back, and you say, 'What's he talking about?'"
To me, this appears to be an example of good, insightful reporting on Politico's part. It is quite possible that Team Obama didn't intend to put such a fine point on the "weirdness" thing, as evidenced by the fact that the on-the-record quotes deal more with the contradictions in Romney's record and rhetoric. But by interviewing "about a dozen" Obama advisers, Jonathan Martin and Ben Smith were able to distill something that broke through the spoon-feeding.
This is a prime example of the tension between messaging and truth. The Obama campaign wants you to know that Romney is weird, but they don't necessarily want you to know that they want you to know that Romney is weird.
Have a tip we should know? tips@mediaite.com