David Brooks Shuts Down Former GOP Governor After He Blames Video Games For CT Massacre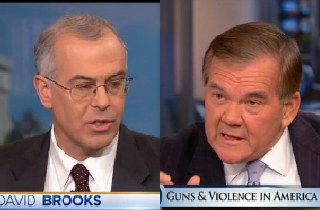 New York Times columnist David Brooks shut down former Homeland Security Director and Pennsylvania Gov. Tom Ridge on Sunday's Meet the Press after he blamed the culture of violence, and video games in particular, for Friday's massacre in a Connecticut elementary school.

RELATED: CT Sen. Lieberman: Video Games, Movies 'Cause Vulnerable Young Men To Be More Violent'
"I think the conversation has to start from the premise that no child is born violent," Ridge said. "So, what are the experiences, pressures, whatever, during the course of that child's life that lead them to the path that they've taken?"
"We know there's mental health problems, but we have to peel away the different layers," Ridge continued. "We haven't even started talking about the corrosive influence of a violent-oriented world; TV, video games – shoot to kill video games."
In the military, you learn that your target may shoot back, but you get into this digital world – this fantasy world – that, I think, if you take a look at the folks at Columbine, Aurora, et cetera – suddenly, it's a different personality type.
Brooks shot back that Ridge did not have the facts on his side, even though he shared his instinct to blame video games.
"I had thought video games had played a role too, but this has been studies – there have been hundreds of these shooters, unfortunately, over the decades, and very few of them had contact with violent video games," he began. "They generally tend to be older. It tends to not be part of who they were. It tends to not have driven them."
"So, I do not think that his is a sociological problem, primarily," Brooks concluded. "I think this is a psychological problem."
Watch the clip below via NBC:
> >Follow Noah Rothman (@Noah_C_Rothman) on Twitter
Have a tip we should know? tips@mediaite.com