Deal with the Devil? Donald Trump Tells Thomas Roberts His Marriage Still Not Legit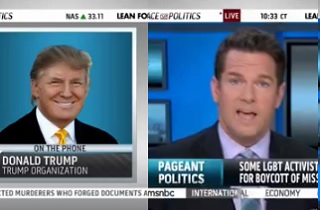 MSNBC anchor Thomas Roberts recently announced, in a heartfelt op-ed, that he pursued and nabbed the Miss Universe hosting gig that Bravo's Andy Cohen gave up due to anti-gay laws in Russia, where the pageant will be held. On Friday morning's MSNBC Live, Roberts interviewed pageant co-owner Donald Trump, and although Trump professed a desire to "make a difference" on Russia's anti-gay laws, he also told Roberts that his own views on marriage equality have not changed.
The raft of anti-gay laws in Russia has prompted boycotts of Russian products, and calls to boycott the 2014 Winter Olympics, but Roberts explains in his op-ed that he wanted the job hosting the pageant in Moscow because it will give those being persecuted a measure of hope:
I am not going to boycott. Boycotting and vilifying from the outside is too easy. Rather, I choose to offer my support of the LGBT community in Russia by going to Moscow and hosting this event as a journalist, an anchor and a man who happens to be gay. Let people see I am no different than anyone else.

All kids—Russian, American or otherwise—need hope. I am a happy, healthy, gainfully employed, educated and married man. And yes, I am gay. These new Russian laws won't stop Russians from being born LGBT and growing up to identify as such. Russia's treatment of its LGBT citizens is unacceptable, unrealistic and only promotes homophobia and intolerance for a community that does and will continue to exist.
Roberts goes on to add that "we still have elected U.S. leaders rallying against marriage equality," but we also have such leaders who didn't get elected, and one of them is Donald Trump, who runs the pageant along with NBC Entertainment. In the run-up to his ill-considered 2012 quasi-presidential run, Trump backtracked on his previous support for civil equality for same-sex couples, and still opposes marriage equality.
On his show today, Roberts asked Trump if he has "concerns about the Russian laws having a negative impact on the contest this year?"
"Well, I don't like it," Trump said. "I don't like what that is all about and, as you know, and I think you probably feel very similar to me, we can go over there and maybe make a difference."
"You can avoid it, and that's one way of handling it," Trump continued, "or you can go over and perhaps make a difference."
Roberts, to his credit, dug into the elephant in the room. "I'm an openly gay and married man, you are professionally flying in the face of these laws, and you are agreeing that LGBT people are integrated and equal members of society," Roberts said. "So does that change any of your prior public stances on marriage equality here in the US?"
"No, it doesn't change," Trump responded. "I just think it's — you are a wonderful guy. NBC felt very strongly, they came to me an explained it to me, and I agreed immediately, as you probably heard. It wasn't — you know, I did not put up a fight, in fact I was very honored. I think you're going to do fantastically, and I love the fact that you feel the same about the whole situation as me."
Trump added that "Going in the face of some of their rules, regulations or laws is something that, frankly, we can avoid it and hide, which I don't think is good, and I can tell you the gay groups over in Moscow are loving the fact that we're going over there. So we can hide or we can do something about it. And I think you're going to do something about it, and I think I'm going to do something about it."
Trump also revealed that "We have invited Vladimir Putin, and I know for a fact that he wants very much to come, but we'll have to see. We haven't heard yet, but we have invited him."
There will surely be many people who will oppose Roberts' decision, both to go to Moscow and to align himself with Donald Trump, a toxic political presence who supports laws that impose an inequality similar to those against which he claims to want to "make a difference." At first blush, Roberts' visibility argument, while persuasive, doesn't quite coat the stomach sufficiently to keep this all down. It's true that in the United States, the increased representation of LGBT people in popular culture, and in the lives of average Americans, has played a major role in shifting attitudes on things like marriage equality, but appearing at the pageant also risks conferring legitimacy or acceptance on Putin's and Trump's views.
However, it is Roberts' insistence that LGBT people "need hope, guidance, education, safe space and YES, LGBT role models," and that "We do them no favors by turning away now. We must be visible, we must show up, and, as Harvey Milk said, we must 'give them hope,'" that ultimately changed my mind about this.
Being able to marry the person you love, and being free from the fear that you'll be fired for who you are, are very important, but there's even more at stake. What animates me to fight for marriage equality, and against employment discrimination, is the elimination of a second-class citizenship that directly contributes to a suicide rate, among gay teenagers, that is three times greater than average. If just one Russian teenager looks at Roberts and sees hope where there was none before, then it will be well worth it. If Roberts and Trump really want to make a difference, they could also consider donating proceeds from the pageant to a charity like The Trevor Project, which provides crisis intervention and suicide prevention services to LGBT youth.
Have a tip we should know? tips@mediaite.com