Fresh off mistakenly devoting an entire front page and ample coverage to the Navy Yard Shooter's weapon of choice, the AR-15 – a weapon that the shooter inconveniently never used — The New York Daily News is again embarrassing itself. The paper's latest unique expression of impotent rage is directed at fans of Washington D.C.'s NFL team, the Redskins. Those with a foolish attachment to this football team are, the paper apparently believes, similar to those with a misguided attachment to the Confederate States of America or Nazi Germany.

RELATED: NY Daily News Splashes AR-15 Across Navy Yard Shooting Cover
"Archaic Symbols of Pride and Heritage," reads a caption beneath a cartoon making what can only be considered a "false equivalency." At least, that's what linkages like these used to be called before the term "false equivalency" was twisted and contorted into meaning "whatever I dislike at the moment."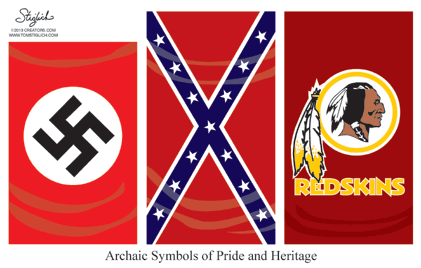 Pressure is mounting on the Redskins to shed the team name. A new SurveyUSA poll shows that 59 percent of Americans believe the name is offensive. Bipartisan influencers, including President Barack Obama and syndicated columnist Charles Krauthammer, agree.
The Redskins will have to reconsider their options if the outrage over the team name continues. But ham-handed efforts to shame the team into rethinking its name, like the effort adopted by the NY Daily News, is only likely to harden resistance among fans to embracing a name change.
h/t The Blaze
[Photo via The New York Daily News ]
— —
> >Follow Noah Rothman (@NoahCRothman) on Twitter
Have a tip we should know? tips@mediaite.com