Democratic Lawmaker Slams Anti-Abortion Bill: Republicans More Fear-Worthy Than Muslims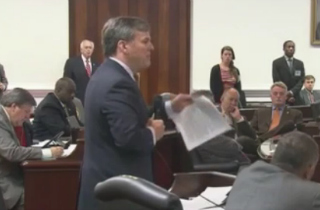 A Democratic lawmaker in North Carolina slammed the attachment of anti-abortion measures to a proposed "anti-Sharia law" bill by suggesting that residents have more to fear from Republicans than the potential for Muslim law besieging the state's courts.
Republican members of the state's General Assembly inserted anti-abortion provisions onto a bill aimed at preventing "foreign laws," including the typically-feared "Sharia law," from playing a role in the state's family court system. Critics believe the strict measures will result in the closing of nearly all North Carolinian abortion clinics.
In a speech before his fellow legislators, State Sen. Josh Stein (D-16th) mocked the "irony" of lawmakers tacking on provisions that, in his view, would set back women's rights to that of half a century ago.
"The irony that you all attached these anti-abortion provisions on the anti-Sharia law is really astounding," Stein said. "There's not a single instance of anything like [Sharia law] appearing in the North Carolina courts; and yet, you're playing to people's base fears."
He added: "You shut [the clinics] down and women are still going to want to have abortions. We as a state and a nation have been there in the '60s and '70s, we know what the consequences are. Please, let us not go back to those days."
Ultimately, he concluded, "When we don't have anything to fear from the Sharia types, what we have to fear is from the North Carolina General Assembly Republican Senate impinging on people's fundamental constitutional rights."
Watch below, via WRAL:
[h/t Raw Story]
— —
>> Follow Andrew Kirell (@AndrewKirell) on Twitter
Have a tip we should know? tips@mediaite.com