Democratic Sen. Feinstein Accuses Obama White House Of Leaking Sensitive Intelligence To Press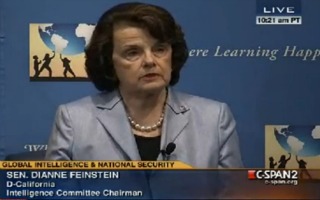 Senate Intelligence Committee Chair Sen. Diane Feinstein (D-CA), speaking at a conference on Monday, made it clear that she believes a series of intelligence leaks that reveal sensitive information about America's national security practices emanate from the White House. She stopped short of accusing President Barack Obama of being complicit in the information leaking, but she said she hoped that the President would stem the flow if sensitive intelligence to the press.

RELATED: Predictable, Politicized Media Extremes Cloud Real Issues In Leak Investigations
"I think the White House has to understand that some of this is coming from its ranks. I don't know specifically where, but I think they have to begin to understand that and do something about it," Feinstein said to an audience at the National Press Club. "I mean there's one book they can read and they'll see it very clearly."
Sen. Feinstein went on to say that she hopes President Obama himself will establish a firm line that these sort of leaks are prohibited and those responsible will be subject to punishment.
I think what the President actually knows about this is difficult because, with respect to intelligence he is in a bubble. He has a daily brief which is called the PDB – the President's Daily Brief – early every morning. And so he gets a briefing of intelligence. I don't believe for a moment he goes out and talks about it. I don't believe the briefers go out and talk about it. But who knows who else. And I think that the importance of this has to be really set by the President himself. And hopefully he will do it. Most likely he will read the book and see it himself.
Watch Feinstein's remarks below via C-SPAN 2:
> >Follow Noah Rothman (@Noah_C_Rothman) on Twitter
Have a tip we should know? tips@mediaite.com