Did Journos Get Tricked Into Reporting That the Turkish President Was a SB Shooter?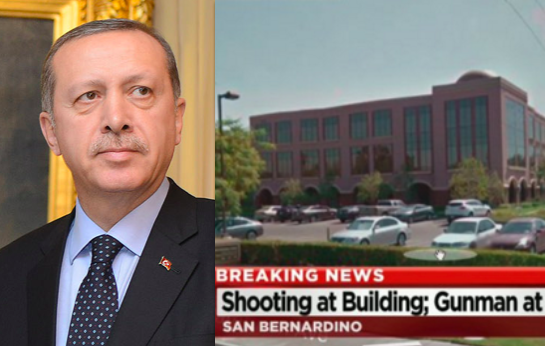 You can imagine what the mad frenzy is like in our industry in the clogged Twittersphere searching for every new breaking development while a tragedy unfolds like the one in San Bernardino, CA. Press conferences, cited sources, reports and alleged goings-on jam up every newsroom, just like ours, competing to present new information to readers and viewers.
Tonight it seems as if a few reporters — committed I'm sure to doing their jobs on a night of difficult developments — may have misidentified the name of the second shooting suspect to be the Turkish President.
At 11:29 p.m. ET, The Los Angeles Times' FBI/Justice Reporter Rick Serrano took to Twitter for what was, by my accounts, the very first word of the suspect's identity: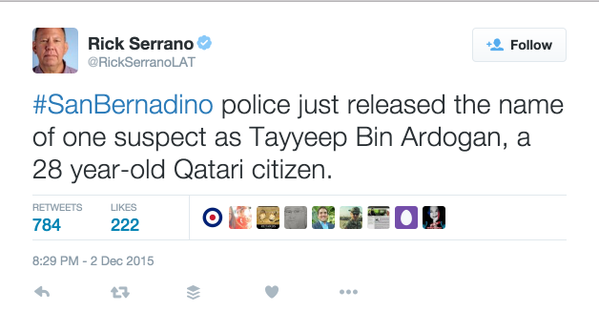 The tweet identifying Tayyeep Bin Ardogan was since deleted; but in the half hour or so that followed, Serrano's Tweet worked it's way up to thousands of engagements as journalists and outlets finally had a verified Twitter user from a trusted news source to release this information.
Fox News contributor and political analyst Lisa Daftari also took to Twitter eight minutes later to repeat her version of the same information: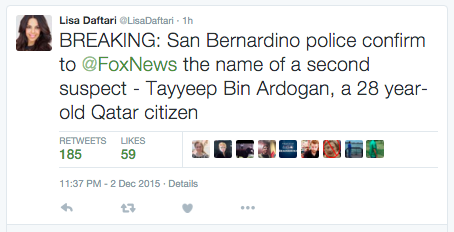 Two credible, verified sources representing major news outlets confirming reports of an identity is a strong argument for veracity — except when the name given bears a striking resemblance to that of the Turkish President Recep Tayyip Erdogen. This is the identifying nameplate from Erdogen's Wikipedia page: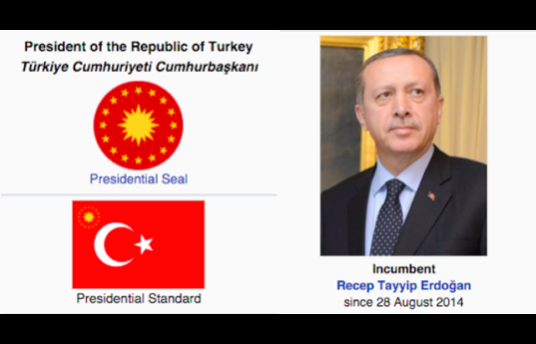 Erdogen has made news recently, finding himself embroiled in the growing battle with Russia over oil trading practices with ISIS. Just last week we reported on Erdogan's refusal to apologize over a downed Russian plane that reportedly violated Turkish airspace.
Certainly however, the Turkish President is not a suspect in Wednesday's violence in California.
You be the judge: Tayyeep Bin Ardogan = Recep Tayyip Erdogan? 
Cable news networks themselves refrained from reporting on Bin Ardogan, simply referring to a female accomplice to the already confirmed shooting suspect, Syed Farook. Serrano's first Tweet vanished sometime after midnight, leaving the original source of the Bin Ardogan report vacant. In its place, Serrano Tweeted the following:
SB police clarifying that 2nd name was not released by them. Appears now to be a hoax. We are disregarding.

— Rick Serrano (@RickSerranoLAT) December 3, 2015
Who knows how many retweets and shares there were, how many "publish" buttons around media rooms were clicked in those minutes when people were frantically listing a variation on the Turkish President's name as a suspect in a deadly California shooting. I can tell you (because I watch cable news around the clock for this job) that the ongoing rhetoric that dominated the landscape Wednesday night dealt heavily with the ethnicities of the suspects.
Were people quick to jump on the "Bin Ardogan" train and unknowingly implicate the President of Turkey through some sophomoric prank masked in journalistic efficiency? It seems to me that on a night when we were all committed to reporting developments on the safety and well-being for a shaken community in San Bernandino, some news outlets couldn't help but get outright Erdoganrolled.
>> Follow J.D. Durkin on Twitter (@MediaiteJD)
This is an opinion piece. The views expressed in this article are those of just the author.