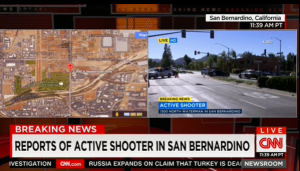 Details are emerging about one of the suspects behind today's deadly shooting in San Bernardino, CA that left at least 14 dead and 17 injured, including one police officer. NBC News reported earlier tonight that Syed Farook was one of the suspects in the rampage at the Inland Regional Center.
Farook's father reportedly told The Daily News, "I haven't heard anything. He worked in a county office… He's married and has a kid. We're estranged because my wife got the divorce, and they are together. She doesn't want to see me."
Farook's father continued telling The Daily News that he had not spoken to his estranged son in some time, adding, "He was very religious. He would go to work, come back, go to pray, come back. He's Muslim."
Farook reportedly worked as a health technician in the San Bernardino area. His father revealed that Farook worked as an inspector for restaurants and hotels. The photo widely used to identify the suspect comes from The Daily Beast's story on Farook's ID.
San Bernardino Police Chief Jarrod Burguan confirmed earlier that two suspects were killed in a shootout with local police this afternoon on East San Bernardino Avenue near Mountain View Avenue after the suspects' vehicle was spotted by law enforcement and followed.
FBI agent David Bowdich confirmed at an earlier press conference that authorities are investigating the "possibility" of a link to international terrorism.
Law enforcement confirmed to the media that assault-style weapons were used and that the suspects were "dressed and equipped" in black clothing and tactical gear.
UPDATE–11:52 p.m. ET: San Bernardino police released the name of a second suspect in today's shooting as Tayyeep Bin Ardogan. Reports indicate Bin Ardogan is a 28 year-old citizen of the Middle Eastern country Qatar.
Rick Serrano, the FBI/Justice Reporter for The LA Times, Tweeted:
#SanBernadino police just released the name of one suspect as Tayyeep Bin Ardogan, a 28 year-old Qatari citizen.

— Rick Serrano (@RickSerranoLAT) December 3, 2015
UPDATE–12:17 a.m. ET: Serrano took to Twitter a short while ago to offer the following correction on the identity of the second suspect:
SB police clarifying that 2nd name was not released by them. Appears now to be a hoax. We are disregarding. — Rick Serrano (@RickSerranoLAT) December 3, 2015
UPDATE–1:12 a.m. ET: At a news conference Thursday morning, Burguan released the names of the two suspects killed in the police shootout Wednesday.
The male suspect, Farook, had been previously confirmed to news outlets by police. US-born Farook, 28, worked as an environmental specialist for the county for five years. Police confirmed he was at a holiday party at the Inland Regional Center and left the event early.
Police also released the name of the female suspect, 27-year-old Tashfeen Malik. Burguan confirmed Malik and Farook were in a relationship, though the details are not known.
Burguan said that authorities are not ruling out links to terrorism. "There had to have been some degree of planning that went into this," Burguan said.
UPDATE–9:19 a.m. ET: The Daily Beast retracted its photo of Farook as it was not a photo of the suspect, Syed Rizwan Farook. The previous photo was taken from the LinkedIn profile of Syed Raheel Farook, who is not the suspect and not tied to the San Bernardino shooting.
We will add more information as it becomes available.
Editor's Note: In a previous version of this post we relied on a since-deleted Tweet from the FBI/Justice Reporter at The Los Angeles Times, Rick Serrano, who reported on the identity of the second suspect in Wednesday's shooting as Tayyeep Bin Ardogan. Serrano shortly thereafter Tweeted a correction, identifying Bin Ardogan's name as a hoax.
[Image via screengrab]
Have a tip we should know? tips@mediaite.com