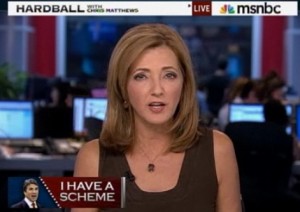 Over the weekend, GOP frontrunner Rick Perry made a thuddingly poor comparison, equating the Civil Rights movement with the struggles of corporations and wealthy individuals. During a pitched Twitter battle with BreitbartTV Editor Larry O'Connor over whether Hardball fill-in Chris Jansing "lied" when introducing the Perry clip Tuesday (she didn't), I noticed that Jansing's introduction hewed suspiciously close to the headline of a Thinkprogress item on the same clip.

Jansing, filling in for host Chris Matthews, incurred BreitbartTV's ire when she introduced Perry's remarks by saying "He was asked a question about the significance of the civil rights movement and sit-ins. He gives this winding answer and then ends up comparing the civil rights  struggle to Republicans` fight for corporate tax rates."
Here's the clip, including what Perry said:
Perry was asked to comment on the 50th anniversary of the Friendship Nine sit-in, which took place in Rock Hill, SC, where Perry was speaking. Here's Perry's answer:
Listen, America's gone a long way from the standpoint of civil rights and thank God we have. I mean we've gone from a country that made great strides in issues of civil rights. I think we all can be proud of that. And as we go forward, America needs to be about freedom. It needs to be about freedom from overtaxation, freedom from over-litigation, freedom from over-regulation. And Americans regardless of what their cultural or ethnic background is they need to know that they can come to America and you got a chance to have any dream come true because the economic climate is gonna be improved.
That's right, folks, the natural extension of the civil rights movement is the continued struggle for the right of the average American to be trickled down on, and if they're really lucky, maybe get to do the trickling one day. This perversion of the struggles of black Americans is nothing new in this year's GOP race. Rep. Michele Bachmann made a similar comparison in July, saying through a spokesman that "that slavery was horrible and economic enslavement is also horrible."
O'Connor's criticism of Jansing hinged on the fact that Perry didn't specifically say the words "corporate tax rates" in his response, which, while true, doesn't make Chris Jansing a liar. Perry's ham-fisted comparison was clearly in reference to corporations and wealthy so-called "job creators." Issues like tort reform and "over-regulation" are pet causes of wealthy special interests, and Republicans have repeatedly demonstrated their willingness to oppose any tax increases on the wealthy, while displaying an eager willingness to raise taxes on everybody else. Jansing's intro might have been a tad narrow, but given that she played Perry's complete answer, she's owed some latitude for interpretation, and her interpretation was correct.
While I was arguing with Larry about this, though, I noticed that liberal website ThinkProgress posted an item about this clip on Monday with the headline "Rick Perry Compares Civil Rights Movement To GOP Fight For Lower Corporate Taxes," which is awfully close to what Jansing said while introducing the clip, and in a pre-commercial teaser in which she said "Republican presidential candidate Rick Perry — get this — comparing African-American`s struggle for civil rights with the GOP`s fight for lower taxes."
When I saw the ThinkProgress piece, I literally laughed out loud at the thought of an apoplectic Newsbusters newsroom (do they have a newsroom?) revving up their liberal bias engines. Based on the circumstantial evidence, there's a good chance that Jansing, or someone at Hardball, first got wind of Perry's remarks from the ThinkProgress post. What's so wrong with that? Absolutely nothing, but the modern media watchdogging game has devolved into an effort to delegitimize news sources, rather than to assess the substance of what's actually being reported.
Have a tip we should know? [email protected]