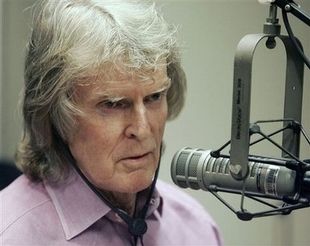 Don Imus' last day on RFD-TV was yesterday (that's Rural Free Delivery – "Rural America's Most Important Network" – for you media elites), and all indications point to him joining Fox Business Network soon.
We called over to RFD-TV's office in Tennessee to find out what replaces the program beginning on Monday. Here's what some of the friendliest TV people we've ever talked to told us.
Imus' program ran from 6-9amET, and several program will take the space. All are repeats of programs currently airing on the network.
6-7amET: Horse and Country TV

7-7:30amET: Heart to Heart Classics

7:30-8amET: Reno's Old Time Music Festival

8-8:30amET: AgDay

8:30-9amET: Rotating shows each day
Well there you have it.
If, and when, Imus joins Fox Business Network – we're hearing an announcement may come as early as next week – there will be more storylines about what it means for the young network. But now we see the end result of an Imus exit – Morning Joe on MSNBC, and the above at his most recent TV stop.
From the joint release earlier this week, the founder of RFD-TV and Imus each gave statements:
Patrick Gottsch, Founder & President of RFD-TV, LLC: "We are so thankful to Don Imus, who has contributed immensely to the unprecedented growth experienced by RFD-TV over the past two years. The awareness created by our carriage of 'Imus In The Morning' has led to RFD-TV distribution agreements with Comcast, Verizon FiOS TV, Time Warner, and Cox Cable for our independent channel. We are extremely grateful to Don for all his support."

Don Imus, Host of "Imus In The Morning": "I will always appreciate the support of Patrick and RFD-TV in launching the new 'Imus In The Morning' program. I wish RFD-TV the best of luck moving forward."
—–
» Follow Steve Krakauer on Twitter
Have a tip we should know? [email protected]