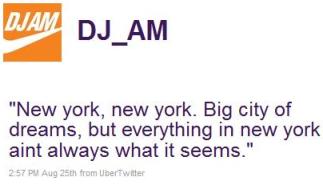 The sad, shocking passing of DJ AM (Adam Goldstein) last night had a new media twist to it.
On his active Twitter feed, the final cryptic tweet came at 2:57pmET on Tuesday. It provides a personal look at a person who lived his life out in the open – and Twitter became a diary as it has for other celebrities.
Goldstein's final tweet was a line from the Grandmaster Flash song, "New York, New York":
"New york, new york. Big city of dreams, but everything in new york aint always what it seems."
Many of DJ AM's past tweets related to promoting his upcoming DJ gigs and discussing his upcoming MTV show Gone Too Far – a cruelly ironic twist to the story, since the show was based around Goldstein helping kids get over drug addiction.
But the insight provided on his Twitter feed is an example of a growing trend. It started for celebrities with Ashton Kutcher (@AplusK), and for athletes with Shaquille O'Neal (@The_Real_Shaq). The reason celebrities appreciate Twitter so much is because it allows them to control the message – but when they want personal messages out there, or real, raw interaction with fans and followers, that option is there as well. Some celebrities on Twitter use it essentially as a promotional tool. But not all.
We saw another example of this last week, as NBA star Michael Beasley sent some alarming tweets two days before entering rehab. When something traumatic happens in a person's life, there are cases where their Twitter feed provides an archived diary of the individuals unrestrained emotion. And it can be very telling.
We've written about Chad Ochocinco's no-holds-barred tweeting, which includes everything from live-streaming himself watching himself on HBO's Hard Knocks to real-time reaction to getting fined today (and likely to get fined again because of the Twitter reaction). For now, Ochocinco's Twitter feed provides a fun outlet. But other athletes, like Stephon Marbury, give access to those who are interested that shows someone strongly in need of help.
The new world of social networking celebrities is a double-edged sword. While they enjoy a closer relationship with fans and the ability to spin their message, when they lose control, it suddenly becomes very public as well. What if Heath Ledger was on Twitter? How about Michael Jackson?
The death of DJ AM – famous and accessible – means those who followed him closely, despite not ever having met the man, will feel the loss that much more.
—–
» Follow Steve Krakauer on Twitter
Have a tip we should know? tips@mediaite.com