Ed Schultz: 'Having Seen Santorum On The Stump, He's As Good As President Obama'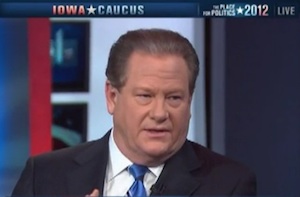 During MSNBC's election coverage of the Iowa caucuses, liberal firebrand Ed Schultz made an astounding observation about Republican hopeful Rick Santorum. "When Rick Santorum is out on the stump, he is as good as President Obama," Schultz explained, without a hint of irony. He then detailed many of the former Pennsylvania Senator's qualities.
"My gut check here — it is impossible for me to describe Rick Santorum as the guy with the pulse!" Rachel Maddow earlier exclaimed. "Rick Santorum's last electoral competition was, we were talking about this, may have been the record for the worst loss by an incumbent Senator running in a fairly representative state. As goes Pennsylvania, so goes the nation, to a certain extent. It is not as if he was running in a weird place with weird rules or weird dynamics. I mean, he got killed in Pennsylvania as an incumbent. How could he be the guy with the pulse?"
"The mood of the country in 2006, we were pretty much sick of what Chris (Matthews) just said, 'that W guy.'" Schultz said. Then added:
"I mean, there was a sea change that was coming. Nancy Pelosi was on the way with the gavel in her hand. I mean, he got wrapped up. There were four Senate seats that went down in 2006 that the Republicans should have won. It was Montana, John Tester. It was McCaskill in Missouri, it was Sherrod Brown in Ohio and it was, of course, Santorum. So he got kind of caught up in a whirlwind. Not that I'm a conservative in any way, stretch of the imagination, but having seen Santorum on the stump, he is as good as President Obama. I mean, he is a good retail politic guy. He gets in that crowd and those people are believing what he is saying. He's got a very unique quality and he connects with people; he is not a bus stop kind of candidate. He gets in their face, answers their question, gets away from the bullet points and gets very explanatory. There are qualities about him that I think conservatives would really gravitate to."
"I think the idea of Ed Schultz as Rick Santorum's surrogate is great!" Maddow deadpanned.
Watch Schultz's incredibly complimentary analysis of Rick Santorum via MSNBC:

Have a tip we should know? tips@mediaite.com