Erin Burnett OutFront Debut Travels The World, But Finds It Soul On Wall Street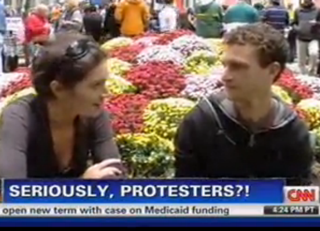 When Erin Burnett said she'd be traveling far and wide to find her stories during promos for her new show OutFront, she wasn't joking. Burnett's debut this evening took her to Pakistan and China and sat her down with both Secretary of Defense Leon Pannetta (on national security) and Donald Trump (on Amanda Knox?). But it was her foray to the Occupy Wall Street protests where the show found its voice: going to where the news is, trying to get answers from newsmakers, and fighting misconceptions.
RELATED: Piers Morgan Wishes Erin Burnett 'Total, Abject Failure' After Celebrity Apprentice
In a segment entitled Seriously?!, Burnett traveled to downtown Manhattan and found that the protests weren't "just a bunch of dancing hippies protesting," but definitely a "mixed bag," and found that much of the rage towards Wall Street erupted from the belief that TARP had hurt the American economy significantly and that the middle class had too much of a tax burden. The most interesting part of the segment was a chat Burnett had with an unemployed software developer named Dan, who made precisely the point that he found the bailouts in the face of so many struggling Americans insulting. To his concerns, Burnett asked whether he knew that taxpayers made money on the Wall Street bailout (excepting the case of GM). Needless to say, he did not, and offered to reconsider his stance with a bit of research.
RELATED: Erin Burnett Debuts On CNN, Immediately Breaks News, Sends Twitter Aflutter
The show is certainly personality-driven, but unlike much of cable news primetime, not opinionated, instead centered on Burnett's reporting and excelling at points when she is allowed to interact fully with the story– talking to the headliners on the floor. While her reporting and interviews on home turf will make up a bulk of the programming, expect the highlights of the show to come from unscripted moments outside the safety of the studio.
The segment via CNN below:

Have a tip we should know? tips@mediaite.com