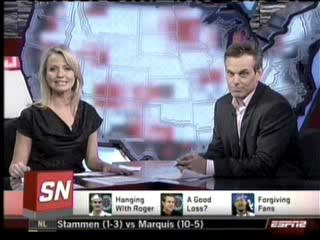 It's no secret ESPN and sports fans are not always on the same page. Never was the divide more evident than during the steroid scandal, which continues today. No matter how many exposés, SportsCenter segments and Outside the Lines breathless reports ESPN can put together, a major cross-section of fans have given up the idea of clean athletics.
And that was just the beginning. But ESPN turned a corner yesterday, premiering a new, post-Twitter show, SportsNation, which airs every weekdays at 4pmET on ESPN2.
Michelle Beadle and Colin Cowherd host, which turns the ESPN formula of telling the audience what they need to know on its head.
Beadle introduced the first segment: "We ask a question about some fascinating stories and you vote on it live on Sportsnation.com." Seems easy enough.
While the first question was a throwaway ("Would it be fun to hang out with Federer?") it did prove one thing: SportsNation does not always respond the way we think. While Beadle and Cowherd joked about Roger Federer's boring demeanor, SportsNation wanted to hang with the champ. Now that's noted and filed away for future reference.
Throughout the show, Twitter, email, and other forms of social networking and community tools are used to interact with viewers in real time. Despite these promising features, the show has some kinks to work out: a section of viral videos (look, it's people on stilts trying to go on treadmills!) seems forced. And the show could easily be a half-hour instead of the full sixty minutes.
But the fact that ESPN is starting to listen to what fans want to hear and talk about echoes a shift for the network. As sports blogs with robust, smart comment sections (like Gawker Media's Deadspin) continue to grow, the "fan" is gaining a louder voice. For ESPN to embrace this section of the audience is the right move.
—–
• Follow Steve Krakauer on Twitter
Have a tip we should know? tips@mediaite.com