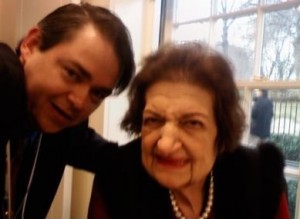 It may sound corny to some, but Helen Thomas is never very far a way from my thoughts, but the occasion of the White House Correspondents Association's re-assignment of her iconic front-row center seat in the Brady Briefing Room provided me with the impetus to speak with Helen for the first time since her controversial retirement. I called her this afternoon to reconnect, and to get her reaction to the news. I was surprised to learn that my call was the first she'd heard of it. Her reaction, and those of some of our colleagues, after the jump.

When I asked her if she'd like to say a few words about the Associated Press' assignment to her old seat, she said "The Associated Press? I thought they already had a (front row) seat."
I explained that they would be moving to the center seat, a scenario that I floated in June in response to Chris Wallace's gloating on the matter.  She asked "Well, who's getting their old seat?"
I told her it would be Fox News.
"Too bad." she replied. Asked to elaborate, she said "What do I think of it? I think that I have no say, no power over that anymore…I hope they do a good job."
I told her I was sure they would. Major Garrett and Wendell Goler are credits to the profession of journalism.
I also took the opportunity to thank Helen for being such a good friend and role model in the year-and-a-half we worked together. She sounded good, better than I've ever heard her when she wasn't having a go at Robert Gibbs. She also sent her love to her former colleagues.
Other reactions included Major Garrett's characteristically humble spreading of the credit to his colleagues at Fox News:
Those of us who will sit in the front owe a debt to Jim Angle, Carl Cameron, Bret Baier and network that supported them.
New York Daily News correspondent Ken Bazinet agrees that "The board got this decision right. This was a no-brainer from the start. Fox has the numbers to back up it's argument for moving and AP indeed belongs front and center."
White House uber-tweeter Mark Knoller remarked, "You don't need a front row seat to cover the White House skillfully."
While the big story here is the front row, Knoller is absolutely right. The practical difference between 2nd and 1st rows is almost nonexistent. The ripples of these moves will be felt more by people like my friend Bill Press, who says "I think it was a Solomonesque decision that will offend no one. The main advantage? Now maybe Gibbs will more readily get to the fourth and fifth rows – where the best questions come from!"
Like Knoller, The Daily Caller's Jon Ward has a suggestion for better question equity. "Its what I expected and Fox deserves to join the other networks there. I'm very happy that the foreign press outlets now have a dedicated chair as well. I'd still like to see a pool seat in the first three rows so reporters from different outlets can rotate in and get a chance to break into the regular pattern of questioners."
For most of us, that front-row center seat will always be Helen Thomas' seat. In the month following her resignation, it remained empty during briefings, but it remained the first destination for visitors to the Brady Briefing Room, press and non-press alike. After exactly one month, USA Today's David Jackson became the first of a very few reporters who got to sit in Helen's seat before it was reassigned. Only 5 White House reporters can claim that privilege, and here they are: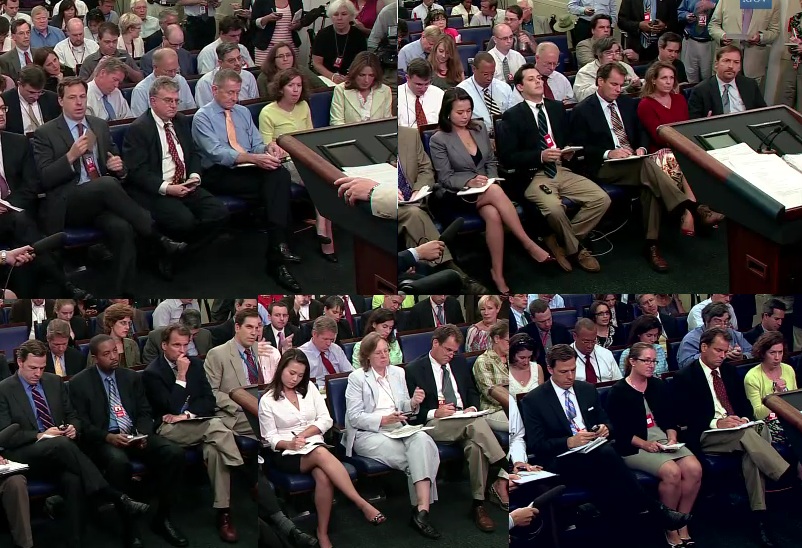 I confess that, aside from Jackson, I only recognize Ebony Magazine's Kevin Chapell and HuffPo's Sam Stein. I've only sat in the front row once, and was so unnerved, I never tried it again.
Still unknown is what will happen to Helen's nameplate. Given time and context, I hope that this symbol of Helen's historic importance is given a place of honor on the wall of the Brady Briefing Room in which she worked for so many years.
Have a tip we should know? tips@mediaite.com