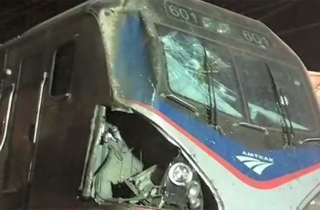 Last night, the FBI released a report saying the smashed windshield of the Amtrak train involved in last weekend's deadly crash was not hit by bullets.
The smashed windshield of Amtrak 188 sparked speculation that it had been hit by "projectiles," possibly bullets, due to the pattern of the cracks. It's still unclear whether the smashed window has anything to do with the derailment itself, caused by the train conductor going twice the speed limit on a sharp curve, but the FBI's clear statement ruled out some possibility of terrorism. (The train's engineer engineer is under investigation for his role in the crash, which killed eight and injured over 200 passengers.)
That said, according to CNN, similar incidents on that track line seem to indicate that something's going on:
At least two other trains — a regional Southeastern Pennsylvania Transportation Authority train and an Amtrak Acela — reported being struck with projectiles in the area near the crash site…

SEPTA passenger Alfred Price said he heard a loud boom before the train he was riding on came to a stop, and the engineer, who appeared shaken, told passengers something had hit the train. A photo of the front of the SEPTA train shows a circular crack on the windshield.

Kam Desai was a passenger on the Acela that was about 20 minutes ahead of Train 188 when something struck and cracked the side window on the row behind her. "We heard a very large, really loud slamming or banging sound," Desai said. "It was very alarming to all the passengers, myself included, and my co-worker that was with me."
The investigation into the crash is expected to last over a year.
[Image via screenshot/CNN]
— —
>> Follow Tina Nguyen (@Tina_Nguyen) on Twitter
Have a tip we should know? tips@mediaite.com