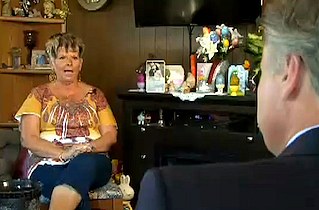 Former Ferguson City Court Clerk Mary Ann Twitty said Tuesday she was caught unawares when the city fired her for racist emails following a Department of Justice investigation into the city's law enforcement practices, and believes she was made the scapegoat.
"It took me a while to get over the feeling of being raped and being thrown under the bus," she told KMOV in her first interview since losing her job. "I feel like I was the sacrificial lamb."
She added that if everyone who sent racist emails were fired they'd "have to shut the doors." "It went on all the time."
Twitty oversaw the collection of fines from court citations, which the DOJ said functioned in Ferguson as a racist collection agency that preyed on the town's African-American community, though she maintains she had no role in setting the fines. She said there was no effort on the part of the city or the police department to target minorities or reach revenue quotas.
RELATED: Ferguson Voter Turnout Nearly Triples; Black People Elected to City Office
The DOJ investigation resulted in the firing or resignation of numerous employees, including the municipal judge, who was blamed by money for the exorbitant fines. New judge Roy Richter began his tenure last month by lowering the fines.
Twitty did say she understands how the emails look bad in retrospect, but insisted she meant nothing racist by it.
"It's ruined my name, it's devastated me," Twitty said. "I'm not that person that they're saying I am…It's not like I personally sent them out or forwarded them to the police officers to hurt anyone or be racist. Because I'm not racist…I'm human. I meant nothing bad by it."
Watch the clip below, via KMOV:
[h/t New Republic]
[Image via screengrab]
——
>> Follow Evan McMurry (@evanmcmurry) on Twitter
Have a tip we should know? tips@mediaite.com