Fmr. Gov. Charlie Crist: I Left GOP But I'm Still 'Pro-Life, Pro-Gun Conservative'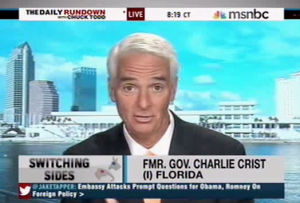 On Thursday's The Daily Rundown, Chuck Todd spoke with former Gov. Charlie Crist who, since leaving the Republican party and campaigning for President Barack Obama, has faced his share of criticism for his departure. Responding to those comments, Crist asserted that the GOP left him, and while he isn't calling himself a Democrat, he's happy to be helping the president.
Todd opened with a simple question. Given that Crist spoke at the DNC and is stumping for the president, Todd asked, "Are you a Democrat now?"
"I'm an independent," he replied. "But I'm happy to be helping the president in Florida."
Crist went on to commend the president's past actions. "As I said earlier, he really helped our teachers, our firefighters, law enforcement officials, he helped us with the BP oil spill, and he didn't care that I was a Republican," Crist said.
Todd later reminded Crist that he once identified himself as "a pro-life, pro-gun conservative" — asking whether that's still how he'd characterize himself, regardless of party. "Yes, I would," Crist said. Despite being pro-life, however, Crist said he wouldn't want to "impose my will on others, and that's the distinction."
"I know there's plenty of good Republicans out there. My mom and dad still are," Cris said. "But the Republican party today is being led far right, unfortunately…To be true to myself, I had to depart. And because the party had left me."
Take a look at the segment, via MSNBC:

Have a tip we should know? tips@mediaite.com