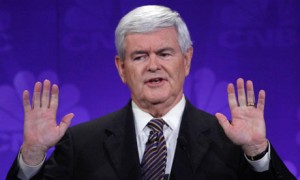 Last week, MSNBC's Rachel Maddow made the case that current GOP frontrunner Newt Gingrich is nominally winning the "Fox News Primary," but a new oppo memo from former Obama White House spokesman Bill Burton suggests he's getting his…well, he's getting beaten in the Karl Rove primary. Citing several recent statements by Rove, and the fact that a Rove operative runs a pro-Mitt Romney SuperPAC, Burton wonders if Rove "might have a dog in this fight."
RELATED: New Ron Paul Ad Calls GOP Opponents "Little Shih Tzus" And Features Exploding Fed Agencies
Burton notes that Rove blasted the Donald Trump/Newsmax debate once Newt Gingrich became the first to accept The Donald's invitation, criticized Gingrich for attacking Mitt Romney, and in an interview with Newsmax last week, praised Romney while questioning Gingrich's "focus and discipline."
RELATED: Newt Gingrich Becomes First GOP Candidate To Officially RSVP To Donald Trump Debate
He also notes that Carl Forti, political director of Rove's American Crossroads, is also leading Romney's Super PAC, Restore Our Future.
All of this is, of course, predicated on the belief that Rove is wrong about any of this. While many of Rove's observations about the Republican field match up pretty well with reality (Donald Trump is a clown, for example), it's unusual to hear Karl Rove criticize a candidate for attacking another candidate. Still, maybe Rove's unbiased view just happens to put him at odds with Newt Gingrich for the moment.
That was my first reaction, based on a general impression I've developed that Rove has been an occasional breath of fresh air from the right during this race, willing to assess the GOP field, warts and all. Then, I took a look at Mediaite's own coverage of Rove this past year, and quite a different picture emerged.
It's not just Gingrich, after all. A look at Rove's criticism over the past year matches up very well with the volatile top of the Republican primary polls. Even before Donald Trump's embarrassing (for Republicans) run at the top, Rove was busily kneecapping the hypothetical candidacy of former Alaska Gov. Sarah Palin.
Then along came Trump, with his Birther sideshow, and Rove was all over The Donald like a coat of gold spray paint. Trump rode the Birther wave to polling numbers that Mitt Romney can still only dream of, until President Obama popped Trump's candidacy like an overripe zit at the White House Correspondents Dinner. Then, as now, it's tough to fault Rove's analysis of Trump as a buffoon, but it fits the pattern nonetheless. It's Rove's next target that provides something of a smoking gun.
Before Rick Perry officially declared his candidacy, Rep. Michele Bachmann (R-MN) was riding high, nipping at Romney's heels in the polls, and got a major (if short-lived) boost from her win in Iowa's Ames Straw Poll. However, Rove didn't wait for Bachmann's cuckoopants declarations about the HPV vaccine to torpedo the Minnesota Congresswoman, nor did he attack Bachmann on any other issue of substance. Instead, Rove was one of a very few conservatives who attacked Bachmann for getting headaches, a blow so low, flaming liberal Ed Schultz was forced to defend her.
When Texas Gov. Rick Perry jumped into the race, Rove openly feuded with him. When Rove attacked embattled Perry successor Herman Cain (well before the allegations that sank his campaign surfaced), the candidate accused Rove of giving "Democrats talking points for a commercial to attack me."
"It makes no sense," Cain added, "unless it's a deliberate attempt on his part to try to push me down so that the candidate he wants rises to the top."
He even went to the effort of taking a shot at Ron Paul in October, long before the Congressman's current surge.
Now, as Burton points out, it's Newt Gingrich's turn in the barrel.
Through all of this, though, Rove had nothing negative to say about Mitt Romney, or at least nothing negative enough to make the pages of Mediaite (and we're pretty thorough). In fact, he hasn't had much of anything to say about the former Massachusetts Governor. He picked Romney to win a September debate, and defended him over anti-Mormon comments made by a Rick Perry supporter.
While the conservative base has consistently delivered the "anyone but Romney" message, it looks like Karl Rove has been engaging in a stealth rear-guard action for Mitt Romney. Howard Kurtz revealed, a few months ago, that Fox News chief Roger Ailes shot down Tim Pawlenty's bid for a Fox News job by telling him, "I'm not sure I want to sign you as a paid spokesman for Romney."
From the looks of things, that position was already filled.
Have a tip we should know? tips@mediaite.com