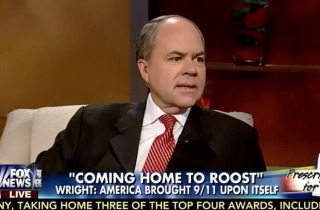 Fox News legal analyst Peter Johnson, Jr. compared President Barack Obama's speech at the National Prayer Breakfast to the infamous diatribes of Rev. Jeremiah Wright.
In a reprimand of those who want him to use the label "radical Islam," Obama said all religions have had their radical elements over time, including the "terrible deeds in the name of Christ" that were committed during the Crusades. Johnson called this a "bizarre message" that reminded him of Rev. Wright.
"I think that's what [Obama] is saying, that the payback is expected, that empathy should be extended to the Islamic caliphate, that we are no better than the people who pursued the Crusades, and that the risk of pursuing Islamic extremism in a drastic way is the same risk as the Crusades," Johnson said on Fox and Friends. "The president sees the Crusades as an attack on the Islamic people and that we are centers and that we have an innate depravity, and that if we succumb to that, we will succumb to the same sins as those in the Crusades did."
RELATED: Fox Host: If Obama Can Say 'Christian Crusades,' Why Not 'Radical Islam?'
Johnson ultimately declared that Obama's message was one of "guilt," "shame," and "remorse," and said the entire Obama Administration is "confused" and "needs therapy." He added that the U.S. has nothing to be ashamed of and should not be showing sympathy.
"The president's comments, in my view, are not helpful and are confused and confusing," Johnson concluded. "And he needs quickly to make it clear what he really means about American exceptionalism, superiority, and keeping America safe."
Watch the video below, via Fox News:
[h/t Grabien]
[Image via screengrab]
— —
>>Follow Andrew Desiderio (@forza_desiderio) on Twitter
Have a tip we should know? tips@mediaite.com