Fox & Friends Compare Obama And Bush's Re-Election Campaigns: Where Are The Big Donors?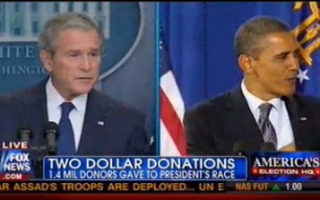 On Monday, the crew at Fox & Friends took a look at President Barack Obama's re-election efforts, noting that his current campaign is experiencing a drop in big money donors since his successful election four years ago. The program showed a clip of Mitt Romney's Fox News Sunday appearance, where he said that Obama is hoping to raise a hefty one billion dollars. "We have to have a nominee," Romney had said, "who has the capacity and the organization necessary to raise money to be competitive."
The crew noted that, this time four years ago, the President's campaign had 23,000 donors signing checks over $2,000, compared to 11,000 now. "And this is actually unusual," said interim host Melissa Francis, "for a sitting president at this time in the campaign."
Host Steve Doocy, citing the Washington Post, then noted that former President George W. Bush had about double the donations at this point in his re-election campaign eights years ago. Turns out, it was actually a little more:
At this point in the last election cycle, Obama had received such large donations from more than 23,000 supporters, more than double the 11,000 who have given him that much this time. President George W. Bush had more than four times that number of big donations at this point in his reelection.
RELATED: Republicans Target Obama's Donations With Groupon Spoof
In September 2011, The New York Times published a report on the campaign's drop in small donors, citing unhappiness "with what they viewed as Mr. Obama's overly conciliatory approach to Congressional Republicans," a "lack of passion," as well as a lagging economy. Could those same elements still be playing a role when it comes to potential big money donors?
That said, in February, Democrats raised over 45 million dollars for Obama's re-election efforts, with a focus on "amassing small-dollar backers." And, earlier in March, a Groupon-like spoof took on the big donors the President has managed to get on his side:
The fun (can we call it that?) take on the president's hefty donations from bundlers gets the message across quite well. One of the featured deals is "Ambassadorships In Exotic Locales." Click to view more about the deal and you'll find a page that reminds you "while Americans wonder about their future, Obama's focused on his own." Included are a series of statistics like "2: Stances President Obama Has Taken On Super PACs."
Doocy floated the theory that Democrats feel the GOP will be so easy to beat this year that there's no real drive or imperative to send money Obama's way.
Have a look at their discussion, via Fox News:

Have a tip we should know? tips@mediaite.com