Fox & Friends Guest: Women 'Not Crazy' About GOP, 'Ultrasounds Shoving Things Into Vaginas'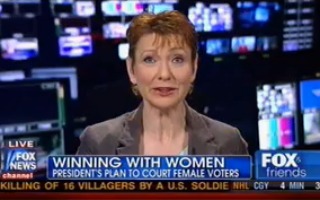 Some people wake up with music, or a good, strong cup of whiskey coffee, some do it to Fox & Friends guests talking about shoving items into certain parts of the anatomy. On Monday morning, host Gretchen Carlson invited Talk Radio News White House correspondent Victoria Jones and Federal News Radio host Lurita Doan onto the program to discuss Democrats' efforts to woo women voters, when talk soon turned to putting things in other things.
"Look," said Jones, "the new Washington Post/ABC News poll that has some not terribly good news for the President has good news on the President of how he's doing with women. Fifty-five to thirty, the President shows as caring more about issues to do with women and 60 percent of respondents say the birth control should be covered. So certainly, he's doing better with women. And also, he only lost women in 2010. From '92 to 2008, he won with women in every election. So it's not a big lift. And also, centrists and moderate Republicans are asking a lot of questions. They're not crazy about what they're seeing with what Republicans are doing. they're not crazy about ultrasound shoving things up vaginas. They're not crazy about panels where women are not allowed to testify. They're not crazy about some of these things."
"Whoa," murmured Carlson. Whoa indeed.
RELATED: Newspapers Are Considering Pulling Doonesbury Strips About Texas Abortion Law
"I'll tell Obama something about women," said Doan, who said she believes President Obama and Democrats are using this issue to divert from other matters, like the economy. "Ninety-four percent of all women owners say that the economy is their number one issue. And the reason why is because Obama's overreach and the over-regulation of this current administration is making it almost impossible to create new jobs. And when you look at the fact that the women care about what all Americans care about. They care about the price of gas at the pump. They care about the fact that the FDA has so many regulations, that the price of food is going up. They care about the fact that the EPA is causing power plants to close down and when you look at this level of over-regulation, what you realize is that Obama is only beginning. He has hundreds more of these sort of overreaching governmental regulations coming down the road. That's what women care about."
Do have a look, via Fox News:
Have a tip we should know? tips@mediaite.com