Fox & Friends Hosts Tear Into Atheists Demanding Representation At 9/11 Memorial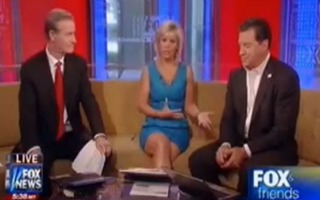 On Monday, the hosts of Fox & Friends took on a group of atheists suing the Port Authority of New York and New Jersey over what they claim is their lack of representation at the 9/11 memorial. The group claims the 9/11 memorial celebrates Christianity because it features a cross of beams that remained standing after the collapse of the World Trade Center towers. The Fox & Friends hosts said that the group's claim was groundless and that the cross is a symbol of hope to the families of many of the 9/11 victims.

RELATED: Atheist Targets 9/11 Cross At Ground Zero, Seeks to Have Atheist Symbol Included In Memorial
Steve Doocy read the compliant which alleges that the members of this atheist group feel "depression, anxiety, mental pain and anguish" over their exclusion from the 9/11 memorial.
"I understand the Jewish point of view," said Gretchen Carlson. "There may be symbols to represent the Jewish religion, as we know, but what do you put up for atheists?"
"They want a big 'A,'" replied Doocy.
"Stop," said Eric Bolling. "This is absolutely crazy. This is nuts. Stop it."
Bolling said that the cross that remained standing after the 9/11 attacks was a "symbol of hope for so many people."
"These atheists have nowhere to go with this," Bolling continued. "By the way, I think somewhere around 80 percent of America is Christian or believes in some form of Christianity – that symbolizes something very hopeful to them as well."
Doocy read a statement from the Port Authority in which they say that they are not in the business of being inclusive to all religious faiths but of telling the story of 9/11.
"You know what, that's a tribute because usually people back off and decide to make everything politically correct," said Carlson. "I'm very surprised by that statement, but it's a good one."
Watch the segment below via Fox News Channel:
> >Follow Noah Rothman (@Noah_C_Rothman) on Twitter
Have a tip we should know? tips@mediaite.com