Fox & Friends Tackles 'Political Ads On Sesame Street:' Some Say PBS, NPR 'Good At Left-Leaning Political Speech Already'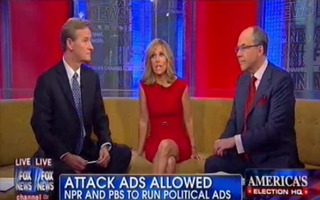 On Friday, the Fox & Friends panel tackled a recent decision by the 9th Circuit Court of Appeals that could pave the way for political advertising on public broadcasting television and radio stations, leaving the hosts pondering the implications of political advertising on children's television programming like Sesame Street.
RELATED: PBS Editors: Frontline Ran President Obama College Video In 2008
"How many of you have had your children watch Sesame Street," asked Steve Doocy innocently. "In the beginning, the whole idea behind educational television – public broadcasting – you know, we're going to put stuff there, it's going to be real educational and maybe, you know, it wouldn't be able to support itself in the commercial world so we're going to underwrite it. Of course, at that price, they won't be able to run commercials – political ads."
"The U.S. Appeals Court, 9th Circuit, has just struck down a federal ban on political advertising on NPR and PBS, said Fox & Friends weekend host Alisyn Camerota. "So in other words, all those political ads that we've been inundated with during this primary are about to crop up on Sesame Street."
"It's a violation of the first amendment that there can't be political speech on NPR, PBS. Why should they be immune from political speech," said Fox & Friends fill-in host and legal analyst Peter Johnson explaining the rationale behind the 9th Circuit's decision. "Now some commentators have said they're kind of good at left-leaning political speech already, so perhaps this is an opportunity for moderate and conservative candidates to buy time and get their message across."
"It's a tough one," said Camerota. "Should Sesame Street be a safe zone on some level apart from all the vitriol of political races?"
"So your kid is sitting there, watching Sesame Street," said Doocy. "You see the Cookie Monster eat something. Goes to black, comes back up and it's a Ron Paul attack ad? Is that what we're going to see going forward?"
"Or maybe Hilary Rosen gets on and says, 'listen, your mother's taking care of you. She's not really working," joked Johnson.
"Anything's possible with this new rule," Camerota concluded.
Watch the segment below via Fox News Channel:
Have a tip we should know? tips@mediaite.com