Fox Hosts 'Disturbed' By FBI Director's 'Clueless & Detached' Testimony: 'Maybe There Is Not An Investigation'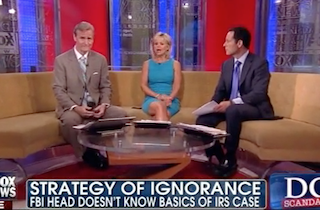 On Friday, the Fox & Friends crew revisited FBI Director Robert Mueller's testimony during a congressional hearing. Observing that he was "detached" and "clueless," the hosts wondered how Mueller lacked answers to so many questions — positing that it could be a new strategy. Perhaps, Brian Kilmeade suggested, there is no investigation into the IRS scandal.
Kilmeade, for one, was "really disturbed" by it. "He seemed clueless and detached, thinking about his vacation rather than what he should be doing — and had been doing, I thought, for seven-and-a-half years, a good job."
Mueller may have expected the hearing to be a "slam-dunk" and been caught off-guard by the probing questions, Steve Doocy weighed in. Meanwhile, Gretchen Carlson had a different theory.
"Quite possibly people are not going to give that much more information in these hearings after what we've seen happen to James Clapper," she contended. "Maybe now the new way of doing these hearings is you're just not going to give a lot of information out because you don't want to be hammered the next day for saying stuff."
It's simply disrespectful, Kilmeade added. He "almost chose not to be prepared for this." Not only did he not know the answers, he added, but "maybe there is not an investigation into this." Referring to the IRS scandal, Doocy felt Kilmeade "hit the nail on the head," as he cited a Daily Caller story about how tea party groups said they've not been contacted by the FBI.
Watch below, via Fox News:

Have a tip we should know? tips@mediaite.com