Kirsten Powers Brutalizes Elitist Politicians And Media Defaming Snowden In Column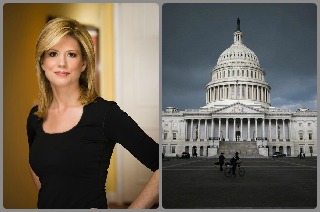 The Daily Beast opinion writer Kirsten Powers took to her column on Friday where she pulled no punches in attacking the media and political establishment in Washington D.C. over the transparent effort to defame NSA leaker Edward Snowden. In that piece, Powers dissected the attacks on Snowden's background and character and called out the evident pro-government damage control campaign motivating them.

"Hell hath no fury like the Washington establishment scorned," Powers began.
Powers slammed the bipartisan group of legislators who attacked Snowden including Sens. Dianne Feinstein (D-CA) and Susan Collins (R-ME), and House Majority Leader John Boehner (R-OH), as well as opinion leaders like David Brooks, Jeffrey Toobin, Lawrence O'Donnell, Richard Cohen, Roger Simon, and Tom Brokaw.
"It seems that he wasn't sufficiently indoctrinated to blindly worship the establishment institutions that have routinely failed us," Powers wrote with a heavy dose of sarcasm. "This is backward. It's the institutions that need to demonstrate respect for the public they allegedly serve."
RELATED: O'Reilly Reins In GOP Strategist On NSA: 'Not Just Obama Admin., You Can't Trust Any Government Agency'
When one major institution (the Washington media establishment) so seamlessly partners with another (the U.S. government) in trashing a whistleblower, it's not hard to understand why Americans might be jaded.
Powers ridiculed the transparent elitism displayed by some members of the media and the political establishment who have taken to mocking Snowden for never finishing high school. "Yes, if only he had gone to Harvard or Yale like our last four presidents, who have done such a bang-up job running the country," she mocked.
After POLITICO's Simon wrote that Snowden had "all the qualifications to become a grocery bagger," Powers jabbed at him with an especially stinging reprimand:
"That people feel comfortable sneering about grocery workers—a respectable job—and writing off Snowden's years working as a security guard as sloth tells you a bit about the culture of the nation's capital, doesn't it?" read Powers' searing critique.
Snowden knew this and he did it anyway. He clearly understands something that those screaming "traitor" do not: the allegiance we have as Americans is to the Constitution, not the institution of government. Snowden summed it up best when he told a South China Morning Post reporter this week, "I'm neither a traitor nor a hero. I'm an American."
Read the full column via The Daily Beast
> >Follow Noah Rothman (@NoahCRothman) on Twitter
Have a tip we should know? tips@mediaite.com