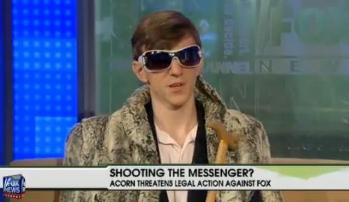 James O'Keefe has been enjoying his moment in the right-wing spotlight since his undercover prostitution/ACORN videos debuted last week. Originating from Andrew Breitbart's new site, BigGovernment.com, the videos have gotten major play on Fox News, Drudge and other Web outlets.
And the young star seemed to be doing everything right – until he showed up on Fox & Friends today in a "pimp" outfit and dropped one of the most "ridiculous" lines ever.
"I'm one of the whitest guys ever," said O'Keefe, decked out in a fur coat, sunglasses and carring a pimp cane. "I just wear ridiculous stuff and put people in ridiculous situations."
Commence the shark jumping.
The segment itself related to the fact ACORN is threatening to sue Fox News (and O'Keefe) for their role in the tapes dissemination. The Fox & Friends anchors wanted to have O'Keefe on to dispute ACORN's reasoning for the lawsuit, instead he unknowingly turned the tables. "I do in fact work for Fox News and I have a budget of about 300 million dollars," joked the "Borat of the Right," while co-host Steve Doocy laughed uncomfortably.
"You have no budget, you don't work for Fox News," he said, with litigation seemingly on his mind.
It should be noted, O'Keefe can be thanked for almost single-handedly getting the Census Bureau to stop working with ACORN. Now he's appearing on cable news in his Halloween costume from junior year in high school.
This video is unbelievable:

—–
» Follow Steve Krakauer on Twitter
Have a tip we should know? tips@mediaite.com