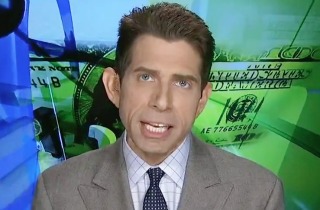 Starbucks' #RaceTogether campaign has not gone over tremendously well. Critics on both the left and right have panned the idea of encouraging racial dialogue between baristas and customers, but Fox News' Eric Bolling actually thinks it's a good idea. Bolling brought up the topic on his Fox show Cashin' In this morning, where one panelist in particular was very unimpressed.
Jonathan Hoenig told Bolling he resents the suggestion that "America is this racist country, that we somehow have to remedy [that] through chit-chat at Starbucks." He said if Americans really want to get past race, they should stop identifying by race and treat people as individuals:
"Stop identifying by your race! You're not responsible for things that came before you, and you're not entitled to things that came before you! There's no discussion needed on race in this country, and the ones who want the discussion, in my opinion, are the racists."
RELATED: Here Is the Full Starbucks 'Race Relations Reality Check' Question Sheet
Bolling and Juan Williams pushed back a bit, arguing that there are certainly race issues that should be addressed more, and it helps to not just seek out "like-minded people" to engage with.
Lisa Boothe agreed with Hoenig, saying that the coffee line at Starbucks is "not the right time or place" for a race conversation. Bolling asked, "If not there, then where?"
Watch the video below, via Fox News:
[image via screengrab]
— —
Follow Josh Feldman on Twitter: @feldmaniac
Have a tip we should know? tips@mediaite.com
Josh Feldman - Senior Editor