Fox's The Five Attacks MSNBC's Chuck Todd For Denying Widespread 'Liberal Media Bias'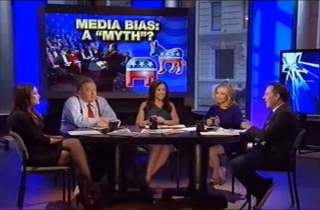 This afternoon, Fox's The Five went after MSNBC's Chuck Todd for saying on Tuesday that the "big, bad non-conservative media" many on the political right find distasteful is actually a "mythology" created by the conservatives.
"Denying the media bias at this point is like denying science," Five host Greg Gutfeld reacted. "You're worse than a 'flat-earther'; you are a 'no-earther.'"
Gutfeld continued: "If you believe [that liberal media bias is a myth], you believe in anything: a whistle is better than a gun; black conservatives are Uncle Toms; female conservatives are scolds; tolerance requires calling terror 'workplace violence'; the Tea Party is more harmful than drug lords; Occupy Wall Streeters were cuddly muppets."
"You don't see it, my dear, because you're soaking in it," Gutfeld concluded.
Liberal co-host Bob Beckel was more diplomatic, conceding "bias" on everyone's part — from Fox to CNN to MSNBC. "You can't go to MSNBC and listen to that and not say there is some bias on the other side," he said.
"It's not a mythology," Andrea Tantaros added, noting that conservative politicians often resist going on liberal shows because "there is a bias there" and why would anyone want to go into a hostile environment, especially when it can be used against them in election ads.
When asked whether it's possible for liberal reporters to still be "objective," Dana Perino was optimistic, saying that during her tenure as White House Press Secretary, "i thought reporters in the press room tried hard to be fair."
Kimberly Guilfoyle jumped in, taking some shots at the MSNBC reporter for his remarks: "I don't know what Chuck Todd is talking about. He knows he doesn't know what he is talking about that. Makes no sense what he said."
Tantaros then added that following the president's fourth State of the Union speech, Todd broke "objectivity" and inserted his opinion that the president's minimum wage plans were a "good" idea. "That is what we [commentators] do, not what he does," she said. "He just reports the facts."
Watch below, via Fox:
— —
>> Follow Andrew Kirell (@AndrewKirell) on Twitter
Have a tip we should know? tips@mediaite.com