Funny Or Die? Family Guy's Domestic Abuse Episode Raises Questions Of Taste And Appropriateness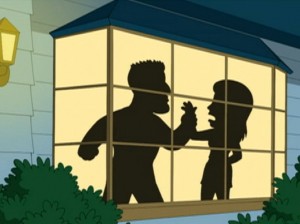 On Monday night, Showbiz Tonight anchor A.J. Hammer was joined by Wendy Walsh, co-host of The Doctors, to talk about Family Guy's latest episode, "Screams of Silence: The Story of Brenda Q." The episode dealt with Quagmire's sister, Brenda, coming to town to help him recover from an auto-erotic asphyxiation accident and being constantly abused by her boyfriend, Jeff. "Like so many other people, I was just shocked by what I saw on Family Guy last night," Hammer said of the explicit beatings administered by Jeff, and the sad reaction of Brenda. "It was really just a depressing half hour of television."
Family Guy fans have grown accustomed to the show pushing limits of taste and appropriateness, but this episode — which was widely panned (The A.V. Club gave it a relatively generous "C+") — seems to have pushed some buttons beyond it just not being funny and not having the anticipated Halloween theme. Jezebel's Whitney Jefferson, for instance, in a post suggesting that the show hit a "horrible new low," said she had long ago been numbed to the offensiveness of the show, but that this episode went too far. "What I saw," she wrote, "was seriously awful."
Hammer asked Walsh what was wrong with the episode, and she said that because Brenda's responses to concerns and rationalizations about her beatings were typical of domestic abuse sufferers, it was too close to real life and, therefore, not funny:
"They made fun of the victim more than they made fun of the assailant," Walsh explained. "The main theme of the show was about this poor 'stupid' woman who was too dumb to leave her relationship. And domestic violence is far more complicated than that. We're watching someone rationalize a domestic violence relationship and this is the kind of thought process that actually goes on in real life. It's not satire anymore."
Plus, it's kind of stale. Writer Alec Sulkin also wrote the brilliant "Stew-roids" episiode, so it's not like he has a bad track record (although he did court some controversy with a terrible tweet after the Japanese earthquake earlier this year). And there's always a chance that the Family Guy writers were purposely pulling a Halloween prank on viewers by producing a "very special episode"-type stunt — eliminating most of the humor and instead playing it on a dramatic level. There was even (spoiler alert!) the brutal murder of a minor character at the end of the episode, with Quagmire squashing Jeff against a tree with a car. But the end result, if that was even the case, may have been that they turned off more viewers than they pleased. The show has dipped into sensitive material before, and FOX has actually refused to air two episodes — one dealing with abortion, the other with heavy Jewish themes. Sunday night's episode, if reaction to it can be used as a good measure, may have been better joining those two episodes in exile.
You can view the episode here on Hulu Plus, and watch theShowbiz Tonight clip below, courtesy of HLN:
Have a tip we should know? tips@mediaite.com