Geraldo: Female Senators Legitimized Attacks On Susan Rice By 'Angry, Old, White Men'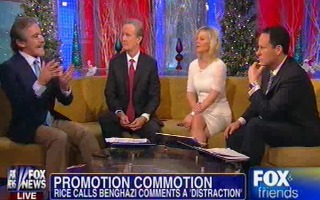 Geraldo Rivera told the hosts of Fox & Friends on Friday that U.N. Ambassador Susan Rice withdrawing her name from consideration to be the next Secretary of State was the "minimum price" the White House had to be for their bungling of the attack in Benghazi in September, and their subsequent contradictory explanations for that attack. He also said that Rice was no longer a viable candidate several weeks ago when moderate women like Sens. Kelly Ayotte (R-NH) and Susan Collins (R-ME) joined the "angry, old, white men" like Sens. John McCain (R-AZ) and Lindsey Graham (R-SC) in opposing her nomination.

RELATED: Brian Williams Asks Susan Rice If She Is 'Blameless' In Controversy Over Libya Attacks
Rivera said that he thought Rice was an unlikely Secretary of State nominee when questions arose about her involvement in the response to the 1998 embassy attacks in Kenya and Tanzania and her personal finances. He said the administration was not defending her against those attacks.
"But the coup de grâce came when the two northeastern, moderate Republicans, Susan Collins and Kelly Ayotte, joined the angry, old, white men — Graham and McCain — and then it couldn't be a male/female issue against this poor, beleaguered, black woman," Rivera said.
"You don't believe that," asked Brian Kilmeade.
"Angry, old, white men," inquired Gretchen Carlson.
"Speaking expansively, and metaphorically, and for effect here," Rivera explained. "She was the minimum price to pay for the administration's dissembling on the facts and circumstances on the Benghazi attacks."
Watch the clip below via Fox News Channel:
> >Follow Noah Rothman (@Noah_C_Rothman) on Twitter
Have a tip we should know? tips@mediaite.com