Geraldo Guest: Jodi Arias' Tweeting Through Friend Is Another Example Of Her 'Breaking All The Rules'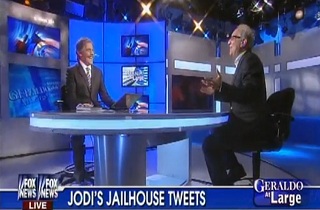 Jodi Arias' ability to tweet from prison is raising some eyebrows among those that are following her trial closely including Fox's Geraldo Rivera. Arias has been tweeting through a friend that attends the trial nearly everyday, something still stuns Rivera.
Arias' friend, Donovan Bering, has played a key role in increasing the social media presence of accused killer. The two talk on the phone regularly and Bering has been turning those talks into tweets for Arias. The county sheriff's office is, obviously, not happy about her tweeting but there is little they can do to stop her. Arias follows comedian Kathy Griffin, Bill O'Reilly, Gloria Alred, and Rivera along with 11 others. Rivera was surprised to learn that he was among the fifteen people she follows. "Her life is on the line and she's tweeting," said Rivera.
Defense attorney Mark Geragos said that Arias has broken all the rules for defendants in capital murder cases through her social media outreach and her unusually long testimony on the stand. "She obviously has a lot of animosity for this prosecutor, as most criminal defendants do," said Geragos.
– WATCH THE JODI ARIAS TRIAL LIVE HERE…
Geragos is convinced that this "getting to know" Arias campaign by the defense is how they'll get the jury to rule in their favor. He said that when the jury addresses her as "Jodi" not "Ms. Arias" in courtroom notes it says a lot about how they are comfortable with her.
Geraldo doesn't think a death sentence is possible here because of the length of the trial. "I can't imagine they'd kill her now," said Geraldo, adding that they've spent so much time together in such close quarters.
As the questions from the jury have continued it's almost started to resemble a Twitter following within the jury box and it, again, shows a sense of familiarity and comfort with the defendant, said Geragos.
Watch clip below via Fox
Have a tip we should know? tips@mediaite.com