Gingrich Defends Romney's Trip: Successfully Contrasted Obama's 'Largely Anti-Israeli, Anti-Polish' Policies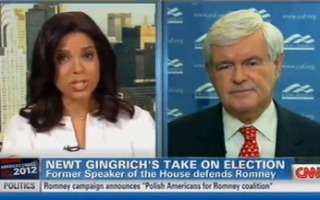 On Wednesday morning, Starting Point host Soledad O'Brien shared her interview with former House Speaker Newt Gingrich about Mitt Romney's trip abroad as well as the future of the Republican party.
RELATED: Coverage Of Romney's 'Gaffe-Tastic' Trip Contrasts With 2008?s Coverage Of Europe's 'Obamamania'
Gingrich told O'Brien that he believes "the underlying crisis in America is a lack of leadership that innovates and creates enough new wealth and new opportunity and new breakthroughs that nobody has to fight anybody." As for Romney's overseas trip, Gingrich felt that the presumptive Republican nominee's trip to Israel and Poland were "very effective" and successful in drawing a contrast against President Obama's policies, which Gingrich described as "largely anti-Israeli and anti-Polish."
He went on to say that he does not think Romney made a mistake in Israel. "I think the comments about culture were right," said Gingrich, "and I wish the elites had the courage to look at the United Nations refugee camps and realize what a human disaster those are, how much they have been breeders of terrorism, how fundamentally wrong their design is, and how much we have done a disservice to the Palestinians to allow them to be subjected to that kind of government-run totally inappropriate structure. So there I hope that Governor Romney will stick to his guns."
As for former President Clinton's upcoming DNC address, Gingrich think "it's a very high risk thing for President Obama to have President Clinton at the convention nominate him" because it will only drive home how Cinton can work in a bipartisan manner, whereas "President Obama can't."
Moving on to the Republican Convention, O'Brien noted that "my understanding is you haven't yet been asked to speak," with Gingrich responding that he is "very comfortable" not speaking at the convention.
What's more, he is "fairly comfortable that maybe it's time for a new generation of Republicans," he shared. "We have so many bright young new Republicans around the country that I think we really want to make sure we maximize their appearance in primetime and show people what a diverse and what a broad party we are."
Have a look, via CNN:
Have a tip we should know? [email protected]