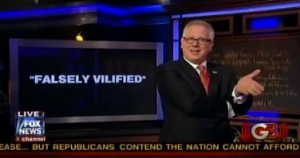 Today on his show, Glenn Beck seemed particularly irked (and funny). One thing that was getting his dander up the most, was an article on Forbes.com entitled "Soros Warns U.S. Could Be On Verge Of Dictatorial Democracy, Slams Fox, Glenn Beck" and, most of all, its assertion that the host had been "falsely vilifying Soros publicly." Beck was so angry that he demanded an apology from Forbes. Pretty interesting. What's more interesting, is imagining whether or not this will be broached next Saturday at 11am during Forbes on Fox.
First, Beck went after the author of the post, Robert Lenzner, by pointing out that he'd written multiple pro-George Soros posts before, including one on the Huffington Post entitled "In Defense of George Soros." He then continued:
"And the most egregious statement, from Forbes Magazine, is one that I would either like proof of or an apology from Forbes. In fact, I think I may demand one. Yes, I'm going to. That I 'falsely vilified' Soros. Forbes Magazine, show it or apologize. I'd like to know exactly what I lied about. 'Falsely vilified?' Really? What did I lie about here? Because I have no idea because there's not one piece of evidence presented to back up your claim. Forbes, really? Are you down to this now? Times getting tough? I used to think you had credibility."
Ouch. We'll see if this causes any internal strife over at Fox. Will it be like The Simpsons vs. Fox News, where everyone just takes their shots and collects their money, or will this be Fox's version of Keith Olbermann vs. Donny Deutsch? Only time will tell.
Check out the clip from Fox News below:
Have a tip we should know? tips@mediaite.com