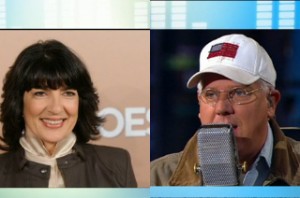 Glenn Beck shared a particularly vicious reaction to Christiane Amanpour's outburst on last night's AC360 Later on his radio show this morning. Recalling his time spent working with Amanpour at CNN, Beck unleashed a torrent of accusations against her, calling her "anti-Western," "anti-Jew" and "the biggest fraud I've ever met."
Beck said he's "held his tongue" on Amanpour since he worked at CNN, but last night was the last straw. "She has a distinct anti-Israel, anti-Western approach," he said, based on the fact that she "made my life a living hell" by vetting "every single word" of his stories on Islamic terrorism.
"This woman is so anti-Western," he repeated, "and so anti-Jew, it is remarkable that this woman has any credibility at all." He predicted that she would not be nearly as outraged over the use of chemical weapons if they were being used against Jews, Christians or Kurds.
But what he really wanted to explain to Amanpour was this: "Just because you are not for war in Syria, doesn't mean you don't care. You want a false equivalence? There it is!"
Amanpour railed against those who question intervention in Syria on CNN Thursday night, saying, "How many more times do we have to say that weapons of mass destruction were used, and as bad as it is to decapitate somebody, it is by no means equal. We can't use this false moral equivalence about what's going on right now. They tried to do it in the second World War, they tried to do it in Bosnia, they tried to do it in Rwanda, and they're trying to do it now. There is no moral equivalence."
Watch video below, via TheBlaze:
And watch Amanpour's AC360 Later appearance below, via CNN:
[photo via screengrab]
— —
>> Follow Matt Wilstein (@TheMattWilstein) on Twitter
Have a tip we should know? tips@mediaite.com