Glenn Beck Takes On Coulter Calling Libertarians 'Pussies,' Whines About 'Nazi' Libertarians Not Liking Him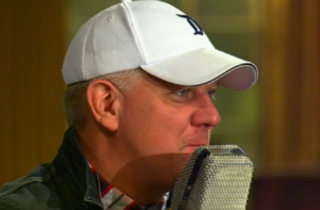 On his radio show this afternoon, Glenn Beck and his merry band of radio buddies listened to Ann Coulter calling a room full of libertarians "pussies," and mostly agreed with the sentiment. Beck then went on a rant about how libertarians don't like him — seemingly hinting at a particular band of "jerks" who don't want him as part of the movement.
During her appearance in a Stossel taping before the 2013 International Students for Liberty Conference, Coulter called libertarians "pussies" for their emphasis on social issues like legalizing drugs and gay marriage. She made the case that libertarians just want to "suck up to their liberal friends" by talking about drugs and homosexuality.
Beck was initially skeptical of this assessment, noting that there likely aren't many libertarians who are friends with the likes of Paul Krugman and Barack Obama.
But Beck's co-hosts were immediately impressed with Coulter's attitude: "Remember Occupy Wall Street? There were some Ron Paul supporters in that. They get dragged right along with those people. That's happens with libertarians," said co-host Pat Gray, noted expert on libertarianism.
Beck then began to complain about certain libertarians who refuse to accept him as part of their movement (cough, cough), noting that he had a "bad word" to describe such people, but he'd withhold for the good family-oriented listeners at home.
He explained how he sent one of his employees to the ISFLC to explore the ideas and report back. Unfortunately, as employee "John" found, many of the students present expressed their distaste for Glenn Beck and their unwillingness to accept him into the movement. Go figure!
Anyway, Beck complained that someone wrote that in order for him to be accepted as a libertarian, he has to "atone" for his previous sins. While it's tempting to assume he was referring to my open letter from December, it seems more likely he was actually referring to Students for Liberty founder Alexander McCobin's opening remarks from the international conference:
"[I]f Glenn wants to call himself a libertarian, I am happy to accept him as one… on the condition… that he comes here, to our community, and proclaim "mea culpa" for his past defenses of social and neo-conservatism in public policy and then take serious, public measures to undo the damage done by his offenses to liberty. While it is perfectly fine to be socially conservative in one's private life, just as it is perfectly fine to be socially liberal in your private life, libertarianism objects to social conservatism mandated by government. It is time for us to express our disagreement and discontent with those who are not of us, but claim to speak for us. Should Beck or any other conservative admit their past transgressions and begin to defend liberty of all people, in all areas of their lives, we should welcome them. But should they try to co-opt libertarianism as they have done before, we must reject their efforts and make clear that we are not on the same team. This is our movement. Not theirs. We stand for the liberty of all people at all times, not the liberty of some people to lead the kind of life that a particular elite thinks is best."
Well said, Alexander. But according to Glenn, that's a "fascist" opinion to hold about him. He later went on to call libertarians "Nazis" for not liking those who don't agree with every tenet of the philosophy.
But no, really, fascism is a nationalistic version of authoritarianism. And "Nazis"? Really? Come on.
McCobin's remarks reflect what's known as free people not liking someone else who tends to say outlandish, factually inaccurate things while trying to become a well-known voice for a movement that depends heavily upon intellectual rigor and principled activism. (In other words: being a vocal supporter of Rick Santorum is incredibly harmful.)
"Whatever sins I have, do you not want someone who is honestly saying 'I'm trying to learn?'" Beck asked of the libertarians who refuse to accept him.
It's a good point. We absolutely love people who are willing to embrace the ideas of "free minds and free markets," but a lot of libertarians (and trust me, I know a lot of them) are on the fence about Beck in particular. On one hand, he has a formidable audience-building skills, and could serve as a great asset in spreading the ideas to a wider base; but on the other hand, his tendency for histrionics, looseness with facts, and Rick Santorum-friending is considered severe baggage by many. Would Beck also slam the countless libertarians who refuse to accept the similarly-divisive (albeit far worse) Alex Jones as being "fascistic"?
Despite being the "only media organization" at the Students for Liberty conference, "they pissed all over us," Beck claimed of his company's experience at ISFLC.
But, actually, no. There was a presence from Mediaite, Reason, The Daily Caller, The Washington Examiner, National Review, and The American Conservative, among others. TheBlaze was far from the only media outlet covering the event.
At one point, though, Beck voiced his support for Rand Paul (as opposed to his usual suspects in Santorum and Michele Bachmann) as the future hope for liberty. We also got to hear him come out firmly against "warrantless wiretapping" and lament that he was once a "fool" for thinking otherwise.
Bravo!
"This society is strung out on the drug of government welfare. The other half of society is strung out on the American flag being all over the world," he also said. "And neither of them will see reality. No one will see that it doesn't work; it's not going to last. We made mistakes beginning 100 years ago."
Honestly, Beck sounded the most libertarian he's ever been. It was a bit of a surprise, despite his not-so-subtle attacks leveled at the "bitter" libertarians (likely including yours truly) who think he ultimately would be harmful baggage for a movement that has long struggled to gain acceptance.
Regardless of how he spent 17 minutes calling people who are rightfully skeptical of him "Nazis," "fascists," and "bitter," I must say: Beck is definitely making some progress. Somewhat refreshing to see.
Watch the segment below, via TheBlaze:
— —
>> Follow Andrew Kirell (@AndrewKirell) on Twitter
Have a tip we should know? tips@mediaite.com