Goldberg To O'Reilly: 'I Disagree With Just About Every Syllable You've Ever Uttered' On Gay Marriage
Goldberg To O'Reilly: 'I Disagree With...Every Syllable You've Ever Uttered' On Gay Marriage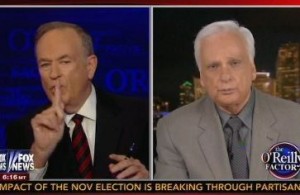 Have you noticed Bill O'Reilly has been talking about himself quite a lot lately? Well, tonight in a second segment devoted to the fallout over his "thump the Bible" comment that angered religious conservatives, O'Reilly brought on Bernard Goldberg to talk about the culture war being waged. Goldberg defended O'Reilly, but made it clear he is actually pro-gay marriage, telling O'Reilly, "I disagree with just about every syllable you've ever uttered on the subject of gay marriage."
RELATED: Bill O'Reilly Blows Up At Laura Ingraham In Epic Segment Over His 'Thump The Bible' Comments
Goldberg made it clear he agrees with O'Reilly's assessment on religious conservatives falling back on the Bible to defend their opposition to gay marriage, but told him he very strongly disagrees with O'Reilly on gay marriage. He said that he personally believes marriage is a civil right that extends to criminals, so why not to gay people? And while he agrees in principle with the idea of states' rights, he said the faulty argument with leaving civil rights to the people means that bigotry could win out by popular vote.
O'Reilly argued that the United States is a far different country today and defended his gay marriage stance by saying that the government can't just arbitrarily grant new protections to just one group of people. Goldberg shot back that all the government needs to do is place a limit saying marriage is an institution of two consenting adults no matter their sexual orientation, dismissing the slippery slope down to bestiality and pedophilia.
O'Reilly then turned the conversation back to himself, insisting that both "the left wing and the right wing ideologues" are trying to topple the power of his program. Goldberg said that the right hates O'Reilly because he's not a down-the-line conservative.
"They see you as a kind of traitor. Well, you know what? Screw them! Don't worry about it!"
Watch the video below, courtesy of Fox News:
—–
Follow Josh Feldman on Twitter: @feldmaniac
Have a tip we should know? tips@mediaite.com
Josh Feldman - Senior Editor